Films taking place in a single setting face distinct challenges. But, if done well, these challenges can be converted into opportunities which only highlight, despite limitations, the individual strengths and subtleties of each of the film's core elements. The Guilty, by Gustav Möller who also co-wrote the screenplay with Emil Nygaard Albertsen, has largely managed to achieve this. Focusing on a police officer who receives an emergency call from a kidnapped woman, the film is a brilliantly constructed thriller, whose screenplay and central performance propel the narrative forward and make it consistently tense and absorbing.
Asger Holm (Jakob Cedergren) is on late-night alarm dispatcher duty. His shift starts out without any major incidents, and he handles these calls with a listless, at times even humorous, attitude. But when he receives a phone call from scared and confused Iben (Jessica Dinnage), his attention is immediately grabbed. Iben has been kidnapped, and she desperately asks for help without being able to provide much useful information about where her abductor could be taking her. Her call abruptly ends before Asger can work out the entire story, and he spends the rest of the film frantically trying to navigate phone calls and piece together the circumstances. It is a tense and enthralling ordeal – one that is surprising, moving and thoroughly thought-provoking.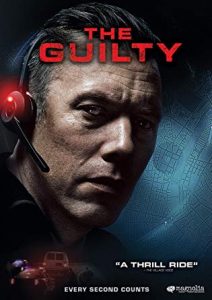 The film manages to adroitly balance several tones, twists and turns with deft ease. And, if anything, the seemingly mundane setting presents little barrier or obstacle. Instead, being forced to work within such a confined space only provokes Möller – and therefore Asger – to rise to the occasion. First and foremost, the success of two core elements is crucial: the screenplay and the lead performance. The screenplay is clever, controlled, and in complete command of the narrative as it unfolds and takes on surprising, even harrowing turns.
Critical to realising the screenplay's complexity is Cedergren's dynamic central performance. The film is viewed through, and rests almost entirely upon, his capable shoulders. Importantly, Cedergren is not written – or performed – as an easily likeable character. As the situation becomes increasingly fraught, he becomes abrupt, impatient, even rude. But he is also given ample opportunities to be measured, empathetic and astute. The layered screenplay – and Cedergren's skill in finding shades – means that the film presents a compelling, multi-faceted character through which to tell the story.
The tension is further sustained through two craft elements in particular: cinematography and editing. Cinematographer Jasper Spanning plays with close-ups, angles and lighting to modulate mood, and editor Carla Luffe is creative with cuts and long takes to regulate rhythm. Together, they constantly find and exploit nuances in how they frame and piece together scenes – to find novelty within the stifling geographical uniformity.
The Guilty is impressive, composed and thoughtful film-making.
The Guilty is in cinemas from 28th February through Rialto Distribution.