Alongside Charlie Chaplin's persona as the Tramp and Buster Keaton's phenomenal use of visual comedy, Laurel and Hardy in their bowler hats dancing to 'The Cuckoo Song' stands as one of the great icons of early Hollywood. Englishman Stan Laurel and his American partner Oliver Hardy made over one hundred films together, starting in the silent era and stretching all the way to full-length features in the 1950s. Stan & Ollie, Jon S. Baird's love letter to the original dynamic duo, brings these two to the screen for the first time in many decades, as they embarked on what would ultimately be their final tour together.
We begin in 1937; the two are at the top of their game making Way Out West for Metro-Goldwyn-Meyer. This was the era when Hollywood was signing contracts with Mussolini and, luckily for Hardy (John C. Reilly), it wasn't yet a faux pas to wear a toothbrush moustache. As studio head Hal Roach (Danny Huston) tries to pressure them into a new film deal, Laurel (Steve Coogan) decides not to sign. The pair are split for Hardy's next film, leaving an open rift between the two that sits simmering for years.
Cut to 1953. After falling on hard times the pair are back together and embarking on a concert tour of the UK. The travel takes a toll as poor showings and failure to secure funding for a new film, combined with Hardy's significant weight gain, open up long dormant tensions.
Written by Jeff Pope, who previously worked with Coogan on Philomena, Stan & Ollie is one of the finest biopics seen in years. This isn't just an excuse to gush over Laurel and Hardy; it's a group of filmmakers doing their best to pay respects to the artists who inspired them. Striking the perfect balance of tone where laughs and melancholic reflection can be found in the same scene, Baird has done a wonderful job of bringing this story to life.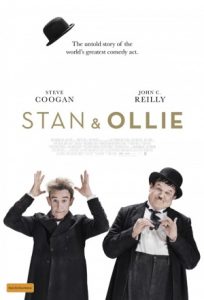 Coogan is solid in everything he does but the surprise here is ever versatile John C. Reilly. It's easy to forget after recent team ups with Will Ferrell that Reilly has the uncanny ability to switch between a movie star and a thespian level actor from film to film. Playing the role required four hours in the make-up chair every morning and underneath the rather convincing fat suit is some of his best work in years. Most importantly, Coogan and Reilly share a wonderful screen presence together; considering how much time we spend with the both of them the film wouldn't work half as well if they weren't so good together.
Surprisingly, this isn't just the story of Laurel and Hardy; the pair's wives get to share this story as well. Nina Arianda gets a memorable turn as Laurel's acidic Russian wife and Shirley Henderson has rarely been as good, sharing a few truly touching moments with Reilly and showing off a particularly good sense of comedic timing.
As filmmaking and cinema in general changes faster than ever before, it's always worth revisiting key moments in its history. This duo were some of the most influential people in Hollywood history with direct impact on Peter Sellers, the Monty Python crew and especially Abbott & Costello just to name a few (that's the comedy team, not the mid-2000s Australian political rivals, although come to think of it both deserve to be laughed at). James Finlayson, a frequent collaborator, is even credited with introducing "D'oh!" into the popular vernacular, which Dan Castellaneta made famous half a century later. Just like Hardy, audiences still fall in love with silly fat men with a penchant for catchphrases.
Jeff Pope calls Laurel and Hardy his heroes and it shows. Stan & Ollie stands head and shoulders above other Hollywood biopics because it finds the human faces underneath the legends. There's a sense of humanity to these characters, brought to life with great performances and strong production design that recreates mid-century England in all its austere glory. Come for the Hollywood history, stay for the brilliantly rendered duo in the centre.
Stan & Ollie is in cinemas from 21st February through Entertainment One.