There are many reasons to go on a particular, specific road-trip: you saw it in a film and fell in love with the scenery and atmosphere, you learned about it in school and had to see it for yourself one day, your friends were going and you wanted to share the experience with them, or perhaps you read about it in a book and wanted to see it with your own eyes. Now, imagine the book is eighty years old and describes the landscape as a literal "Dust Bowl" and the experience of trudging across the country as hellish. Does that sound like a fun adventure?
There are many iconic American road trips chronicled in film and literature, but none inspires such dread and discomfort as the westward migration of the Okies in 1930s, depression-era America described by author John Steinbeck in his seminal novel The Grapes of Wrath. But for five gung-ho Aussie adventurers there was nothing more inspiring for a trip than the plight of the midwest farmer forced west in search of work and opportunity.
Filmmakers Charlie Turnbull and Cameron Ford, along with their mates; director of photography Red Chaouki, Leon Morton and photographer Oliver Chiswell, wanted to recreate the westward migration of the fictional Joad family from their favourite book, from Oklahoma to California. Opting to cycle to best take in the countryside and recreate the tough slog of the original migrants, the friends set off with the modern day equivalent of the Joad's $18, and hit the road with a trailer full of instruments and hearts full of hopes and dreams.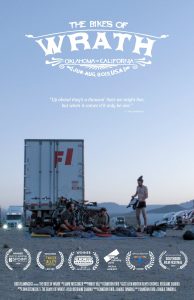 What becomes evident when they first set off on their 2600 kilometre journey is that this trip isn't about the countryside, it isn't about the journey itself, but it's about history, people and America. They are greeted with warm and generous people everywhere they go, and at one point early on even end up with more money in the kitty from donations than they started off with. They discuss their intentions with everyone they encounter and end up painting a portrait of the everyday struggles of middle America. People invite them into their homes, offer them meals, offer them money. One lovely couple offers two injured members of the team a place to stay and recover, before driving them to the next meeting point. While they are with people they get to know them a little and discuss the novel, the dust-bowl and what America has learned from its past. Is the American dream dead? Why are immigrants, even internal immigrants, so hated and despised? Why are the disparities in wealth tolerated when so many are starving? Filmed in the atmosphere of the 2016 election there is a sense that people want better but they don't think they can do anything to change the system.
Of course it isn't always smooth sailing and they do face hardships, but a chance encounter with a troubled man at the side of a freeway exposes the double standard within society: where five well-to-do Australians who have chosen to undertake this hardship in order to have an adventure are greeted with generosity and kindness, but a homeless African-American man struggling with schizophrenia is sleeping rough under a bridge and hasn't eaten for three days. A similar sentiment is espoused by King Theo whom they meet at a supermarket; he is baffled by the fact that they would choose to eat poorly and sleep rough when others like himself have no choice.
Much of the journey itself is covered by montage footage of the group riding, Chiswell's beautiful photography, and voice-overs from their gathered followers reading excerpts of the inspiring text which highlight what becomes the central thesis of the film: that the most generous people in society are the ones with the least to give.
There's no denying the boys have an amazing adventure, and they paint a portrait of middle Americans just getting on with life, living outside the system, and living on the fringes. The generosity of these disenfranchised people just about restores your faith in humanity until the team reach California where you learn the fate of so many of those who made the journey in the 1930s was to be met with disappointment, hardship and exploitation.
We need to find a way to lift each other up rather than put each other down, and the boys' journey inspires so much good in those they meet. If this film can teach us to be kind to one another, then the journey was surely worth it.
The Bikes of Wrath screens at various locations around Australia from mid February through Demand Film. See here for further information on session dates or how to host your own screening.

3 blergs