Maria Callas, the beautiful Greek-American soprano, is a name familiar to anyone who loves opera. She is considered to be the greatest soprano of the 20th century – possibly the greatest who ever lived. Photographer and documentary maker Tom Volf has traversed the globe to bring us a rich portrait of this remarkable woman in Maria by Callas.
Volf started production on this project back in 2013, flying around the world to find every bit of footage and interview material he could. It shows – this is a complex and richly detailed look into the life of European art royalty. 
Callas, Greek by heritage but born and raised in New York, remains one of the most recognisable faces and voices of last century music. She dominated the opera scene her entire career, with fans stretching from the rose-throwing masses to Queen Elizabeth II and the Queen mother. She even counted Grace Kelly and the Grimaldis are friends. The breadth and quality of her voice even earned her the nickname La Divina (the divine).
This was a once in a generation voice, and while Volf has done a wonderful job of showing us her performances we're also treated to an insight into the woman herself. Through personal letters and archived interviews with the likes of David Frost and Edward R. Murrow we learn of the fractured relationship with her mother to her eventual love affair with Greek shipping tycoon Aristotle Onassis.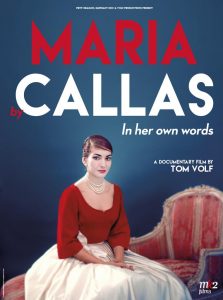 She lived an extraordinary life, yet one that was dogged by career obligations and a fractured relationship with the press. The stereotype of the spoiled diva dominated a lot of her media coverage, due to the occasional childish outburst and a habit of cancelling performances half way through the night. Yet it's clear she was a victim of selective focus, as some things with the press never change.
Was she happy? It's hard to say. The depth of talent and her extraordinary ability to hold an audience seemed to mask bitter disappointment over elements of her life. It's clear that she was forced into a singing career by her mother, once saying that "There must be a law against forcing children to perform at an early age" and "I'll never forgive her for taking my childhood away." She also made it no secret that she would have happily given up the opera circuit for a family. As it turned out she died at the age of 53, childless and living in isolation.
Opera lovers everywhere should see this for her singing alone. Hearing recordings doesn't do it justice (keep in mind that there's no microphones in opera, it's all done by those on stage projecting their voice) and often Volf simply shows Callas on stage and lets it play in full. Talent like this speaks for itself. It would have been astonishing to hear it live.
As she says herself, opera can be rather silly but when it goes well it has the ability to deliver life's greatest joys. Although some of her personal insights are held at arm's length – she comes off as rather private a lot of the time – Volf has created a remarkable vision of Callas both on and off the stage. It's a tour through the glory of old Europe helped along by a once in a century voice. This is esoteric but for opera lovers it's a gift.
Maria by Callas is in cinemas from 7th February through Sony Pictures.