In 1956 Harvard had five hundred students enrolled in its prestigious law school. Nine of them were women, one of which was Ruth Bader Ginsberg. At the time she was a newly married 23-year-old with dreams of doing something meaningful with her love of law. Now aged eighty-five and having been an Associate Justice of the US Supreme Court for twenty-six years, she's internationally renowned as a crusader for gender equality and women's rights. On the Basis of Sex, Mimi Leder's latest film after a decade long hiatus, is the story of the landmark case that first gave Ginsberg international attention.
Felicity Jones takes up the garb as R.B.G, who in the very conservative 1950s had to contend with not only breaking into a male dominated law field but also a newborn child and a husband (Armie Hammer) diagnosed with testicular cancer. The tribulations of these years can't break the spirit of this ambitious young woman who years later, in the melting pot of the 1970s counter-culture movement, comes across the case which will make her name.
Charles Mortiz (Chris Mulkey) hired a nurse to help take care of his elderly mother in rural Denver; of which he is denied a tax deduction because the law stated it was available to 'a woman, a widower or a husband whose wife is incapacitated'. Mortiz, who never married, wasn't eligible. The fact that the original writers of this law didn't envisage that an unwed male could be a primary caregiver means that this is legal discrimination on the basis of sex. "This isn't a case, it's an opening salvo in a fifty year war" remarks one of Ginberg's team and as the opening shots of the campaign ring out. It's clear the establishment isn't going to go lightly.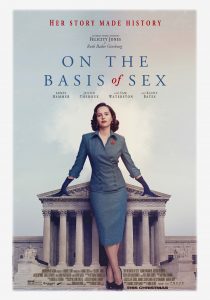 Despite having important subject matter and giving a platform to one of the most impressive women in the world, On the Basis of Sex looks and feels like a made-for-TV movie; perfectly digestible but lacking in subtlety or nuance.
Despite sharing few similarities with R.B.G. (a five-foot tall Jew, born and raised in Brooklyn), Felicity Jones (from Birmingham, England who started out as a child actor) does an admirable job of bringing her to life, even pulling off a New York accent. The chemistry she shares with the always reliable Hammer holds the film together, considering how much time we spend with them.
In the current political climate Ginsberg and her insights seem more important than ever, especially since it won't be long before she both retires and passes away. Over her time in the supreme court she's emerged as an icon in popular culture, 'the Notorious R.B.G.' as she's affectionately known in some circles; a hero to the progressive side of the political spectrum but as a liberal demon to the Republican voting bloc.
As women all over the world assert their right to the public domain like never before and a man who brags about sexual assault can be elected President of the United States, the story of Ruth Bader Ginsberg is one worth telling and repeating. Importantly it doesn't come across as preachy and the case that the story is built around is a study in how gendered discrimination hurts men equally.
Despite Leder's formulaic direction and habit of slipping into cliches (two characters finally understand each other after having a heart-to-heart in the rain) this is still an important film, one that little girls everywhere should be taken to see. It's well-intentioned but nowhere near as inspirational as its real life counterpart. Equality is an ideal always worth striving towards. The disempowered among us live in an invisible cage where the laws are the bars and it's the duty of us all to not only identify, but remove them entirely.
On the Basis of Sex is in cinemas from 7th February through Entertainment One.