The life and death of Vincent Van Gogh has been an obsession of the art world for 128 years now, and still the vision of his face wrapped in towels after severing his ear looms large in the public imagination.
In 1890 he stumbled to his house in Auvers-sur-Oise with a bullet in his chest, having endured a torrid few years between Arles, the asylum, and finally his home at Auberge Ravoux, and within thirty hours it had done its work. At Eternity's Gate attempts to understand Vincent's psychological state and the events that led up to his tragic end. The results are mixed.
A loner and a creative machine to the end, with seemingly only the faith of his younger brother Theo (Rupert Friend) to spur him, in his latter days Vincent (Willem Dafoe) strived to look past what he felt to be the stuffy confines of impressionism and bring a more colourful and expressive style to bear, one that captured the light, movement and beauty of the everyday in a new perspective.
Covering the last few years of Van Gogh's life as he feverishly documents the countryside around Arles in France's south, director Julian Schnabel wants us to feel an affinity with the man who channelled every inch of life into his painting, only to be left a poverty-stricken peddler of unwanted art, and to understand the psychology that drove him.
With a recent exhibition of Van Gogh at the National Gallery of Victoria and the beautifully rendered Loving Vincent making waves last year, audiences may be familiar with the setting and his letters to Theo. To hear Vincent talk about the light around Arles is to hear a man enraptured. Long days would be spent out in the fields capturing the patterns and textures of even the most mundane and unlikely subjects — a stump, an olive tree, a cypress — in increasingly bold strokes, much to the confusion and disdain of, it seems here, almost everyone in that small town.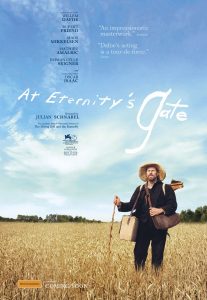 With fellow post-Impressionist Paul Gauguin (Oscar Isaac) he thought he had found his partner in crime, but the disappointment of Gauguin's desertion after creative and personality differences would only accentuate a deep and destructive despair.
To demonstrate this psychological breakdown Schnabel deploys an artillery of mainly visual tactics to capture the world as Vincent saw it. He follows Van Gogh's rough artistic process with a juddery handheld camera, tracks Dafoe's exhausted face in close-up, and now and again completely or even partially blurs the lens to mimic his vision.
Long stretches are spent following Van Gogh's search for a particularly sublime light as he treks across paddocks in France's agricultural south. Sometimes we chase him, at others the camera confronts him. It's quite 'home video' and can be disorienting. At this point in time nothing in Vincent's life is orderly or stable, so you can see the intention.
However, far from aiding Schnabel's goals, this cinematography from Benoît Delhomme is overdone and fiddly. Equally irritating is the accompanying score from Tatiana Lisovkaia — atonal and insistent, just jabbing away with little to recommend it. In trying to approximate the erratic nature of Van Gogh's experience, the film itself is a frustrating imbalance of overlong meditation and jerky urgency. And instead of connecting with him, we are distanced by the overt presence of the filmmaker's intrusion. The screenplay from Schnabel, along with Jean-Claude Carrière and Louise Kugelberg, is passable if minimalist.
With so much focus on style, this is admittedly a film of few words and is left mostly to Dafoe's pained portrayal to carry it, with only a few cameos from the likes of Mads Mikkelsen, Emmanuelle Seigner and Mathieu Amalric to help things along. Oscar Isaac might have hoped to help, but as Paul Gauguin he is merely puzzling and out of place.
Thankfully Dafoe attacks the role admirably and is utterly convincing, even allowing for the fact this is a 63-year-old playing a 37-year-old. Given the poverty, fatigue and malnutrition of Van Gogh's late life, it's quite possible he would have looked 63, and he inhabits a volatile soul with total commitment. Even if his few choice words throughout this film might sound a little philosophically strained — they might sound profound in a diary but more contrived in conversation — he holds his end up.
At Eternity's Gate is in cinemas from 14th February through Transmission Films.