There's something especially gratifying about watching survival movies. They can distil the human experience down to essential choices, bring into focus what's really important, allow the audience to imagine the lengths they would go to to stay alive, and often offer a sense of catharsis once the protagonist sees that first sign of rescue.
It's something of a safe genre choice for first-time feature director Joe Penna (who made his name creating music videos on YouTube), allowing pure concentration on a main figure and providing clear character motivation and a driving force for the film. Arctic, the story of the survival efforts after a plane crash in the polar tundra, doesn't truly give us anything we've never seen before, but Penna is assured in his direction and satisfyingly understated in his storytelling (with co-writer and editor Ryan Morrison). Where he's really succeeded though is in securing Mads Mikkelsen as the lead. He carries the whole film and without him it probably wouldn't really be worth a second look.
The first half of the film follows Overgård's (Mikkelsen) almost Sisyphean tasks of survival until rescue comes – carving a giant SOS into the snow or trekking to the top of a hill to hand-crank a transponder to call for help. Sure, his situation is bad, but he's capable, organised and disciplined, and relatively secure in his makeshift camp. But when a rescue helicopter crashes in bad weather and he frees an unconscious and rapidly deteriorating survivor (Maria Thelma Smáradóttir), he's forced to make choices that might kill or save them both.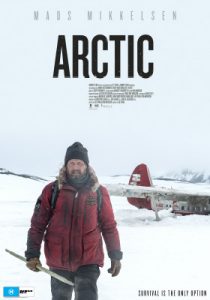 This is a story told mostly wordlessly, what we learn about the character and circumstances gleaned through close-ups of objects – marks scratched on a map, blood on snow – or the way Overgård looks across a landscape, cleans a rock, or his watch alarm beeps. Rather than something like Tom Hanks dolling out exposition to a volleyball, this draws the audience into the film as they try to discover everything they can about the situation from the clues laid around. Penna and Morrison economically lay out their story and gradually ratchet up the tension to the point where even the smallest things have big impact.
Mikkelsen (no stranger to extreme shoots, see Valhalla Rising) gives an intense, raw and committed performance – you can almost feel the coldness of his hands, the effort he has to put into each action – and it's no wonder he named it his toughest ever production. He deftly tells much of the story through his eyes, his grunts, or in simple repeated phrases. His performance is also emotionally raw, and there are some simple, moving moments – like where he rediscovers the warmth of both fire and human contact that he's been so desperately missing.
Arctic is lean, stripped back, grounded storytelling anchored by a rock-solid performance from Mikkelsen. It doesn't take us into unknown territory, but Penna still makes the journey worthwhile.
Arctic is in cinemas from 14th February through Umbrella Entertainment.