At the incredible age of eighty-eight Clint Eastwood shows no signs of slowing down. With almost one film directed or produced every year since the year 2000, this legend of the silver screen has a record of quality that most contemporary directors can only aspire to. The Mule, based on an incredible true  story of Leo Sharp and adapted from a 2014 New York Times article, is the story of the oldest drug mule in the world.
Earl Stone (Eastwood), a workaholic horticulturalist who specialises in lilies, shuts down his life long business in 2017. Pushing ninety and with no family bridges left to burn, including a daughter who refuses to even speak to him (played by Eastwood's real daughter Alison), he seems one of the millions of disenfranchised Middle Americans. The rapid rise of globalisation and the internet have created an economy and younger generation he can't recognise or adapt to.
Yet after an acquaintance of his granddaughter (Taissa Farmiga) gives him the number of a Latino group wanting a driver he finds a new source of revenue. His job is simple: drive cross-country to drop off black suitcases and ask no questions about them. Without quite realising the danger he's got himself into, and despite having a spotless criminal record, Earl has become the most successful drug runner in the history of the Sinaloa Cartel.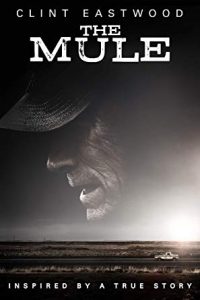 Dealing with a lot of the themes that Eastwood seems preoccupied with in recent years, The Mule is another high quality offering that uses his unique craftsmanship perfectly. In many ways it's the spiritual successor to Gran Torino, or at least shares a lot of the same DNA, which is likely explained due to both films sharing Nick Schenk as screenwriter.
Earl is an old breed of American male, a Korean veteran with a penchant for cars, significant family issues and the inability to properly interact with minority groups. He's a man who's lived a lot of life and only now has time to reflect on it, realising as he does the mistakes he made. Eastwood, who seems to have a wrinkle on his face for every year he's been alive, still has that legendary presence on screen that can't be matched. It's very lucky that Eastwood can still deliver because a dangerously large percentage of the running time is just Stone alone in his car. A lot of his traits, from the scowling to his views, seem to flow from Eastwood himself – notably seeing young people as overly reliant on the internet and severely lacking in resilience, as he once referred to current young people as the "pussy generation" (a rather rude epithet but one that isn't unearned).
The cast around him do the best with that they're given. Bradley Cooper as the DEA agent looking for the infamous mule is still riding his career high. He's worked with Eastwood before and they seem to get great results from each other, although Cooper really needs to get over his recent habit of mumbling through lines. Dianne Wiest, along with most of the female characters, have been largely forgotten, as she's shackled with exposition and little else to do. It's not an overly progressive film, but it's an understandable flaw: it comes to us from an eighty-eight year old who has stood as the cornerstone of American masculinity for almost sixty years.
The Mule has little new to offer but that isn't meant as a negative. The themes it explores are ones that every generation goes through yet every one has a unique relationship to. Eastwood knows what works in his films and what doesn't, he's mastered the art of putting male ponderousness on screen, and for a film that deals with drug trafficking and escalating cartel violence it's a lot more subdued and human than many other directors would have made with his material. The best description would be a "Dad film" – take your father or grandfather to the cinema. They'll love it.
The Mule is in cinemas from 24th January through Roadshow Films.