In the shamefully recent past of the mid-twentieth century, Victor Hugo Green, a New York City mail-man, published The Negro-Motorist Green Book annually. It detailed good places that an African American road-tripping through the Jim Crow South could find food and shelter without fear of being withheld service. This was the era of American apartheid, where the true story of an Italian bouncer and a black piano master's life altering road trip took place.
At the beginning of the 1960s Don Shirley (Mahershala Ali), an internationally renowned piano player, embarked on a concert tour of the Deep South. Shirley, a proud man whose creed hangs on the idea that "dignity always prevails", is not the kind of person who drives himself. His skin is too black for white folks while his taste for high art seems to be too pretentious for many of his black brethren. Enter Frank Vallelonga (Viggo Mortensen), night club bouncer looking for work and the Italian stereotype to rule them all. Tony's skills at bullshitting are only matched by Don's skill at piano; together this tour will change them both.
Director Peter Farrelly, who also co-wrote the film with Brian Currie and the real Frank Vallelonga,  seems an odd choice for this material. With a directing history that includes There's Something About Mary and Dumb and Dumber, an honest road film exploring the evils of racism doesn't seem to be like anything he's done before. This may explain why Green Book, enjoyable though it is, doesn't explore any new ideas.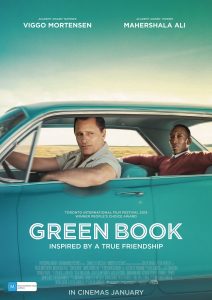 Frank Vallelonga is Viggo Mortensen as we've never seen him before: Italian and sporting a beer belly. This is the most stereotypical Italian American it's possible to imagine: chowing down bowls of pasta fazool, chain smoking and spouting lines about people breakin' his balls. He even throws in a 'fuggetaboutit' for good measure. A character like this shouldn't work but it's a cold fact that stereotypes exist for a reason and Mortensen is such a great character actor that he manages to come full circle and stick the landing. There's a sense of truth to this character that few actors could have accomplished.
2017's Best Actor winner, Mahershala Ali, injects a much needed sense of poise. He and Mortensen have a great onscreen chemistry. We spend almost every scene with these two so getting them right was paramount and it's a credit to them both that spending time in a car with them can be so entertaining. 
Any film that deals with racism in this age needs to bring something more to the table than simply telling the audience 'racism is bad', as true as that message is. It's important to keep in mind when we see the many films that aim to address race-relations that racism is more than personally held prejudice. Racism is systematic oppression. It starts at the top and trickles down through power structures and institutions. Although it's important to show the human-to-human effects of this – Mortensen overcoming his perception of what a black man acts like – for a film to make a difference in this age it needs to go beyond pinning it on evil Southerners.
Green Book is a perfectly digestible crowd pleaser that can't overcome the fact that we've seen this before. What it lacks in subtlety it makes up for in the fantastic leading performances that manage to save this from being a tedious lesson in 60s bad-old-days nostalgia. This is exactly the kind of well meaning but thin film that opens around Oscar season with good intentions but not a lot of staying power. It now has five Oscar nominations.
Green Book is in cinemas from 24th January through Entertainment One.