Having been in the pipeline for several years, Mary Queen of Scots, directed by Josie Rourke, finally makes it to the big screen. Based on John Guy's biography, Queen of Scots: The True Life of Mary Stuart, with a screenplay adapted by Beau Willimon, the film sees last year's best actress contenders, Saoirse Ronan and Margot Robbie, star together at last, even if it's just in one scene that has historical purists all riled up.
After becoming Queen of France at age sixteen, and then a widow at just eighteen, Mary Stuart (Ronan) returns to Scotland to reclaim her throne. However, England and Scotland fall under the rule of her cousin, Queen Elizabeth I (Robbie), and so the scrambling begins.
What ensues is what can best be described as an absolute clusterf**k. Not in terms of the film per se, but rather more representative of the shitstorm that is the monarchy system, particularly in 1569. The storyline is somewhat difficult to follow because of the sheer absurdity of it all – who should marry who, who should screw over who, who should actually screw who. Perhaps history buffs will have a better chance of understanding, but then again, the film seems to have produced a lot of anger about its historical inaccuracies, so perhaps nobody wins.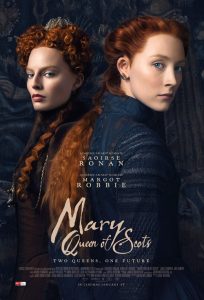 While it is a period film, Mary Queen of Scots sets itself apart as a contemporary film, particularly with the inclusion of queer supporting characters as well as its sex scenes. The main characters are women, though not surprisingly for the time, despite their strength of character and their supposed power, they still get their shit dictated by a group of men. Supportive female friendships are portrayed between the queens and their ladies in waiting, while the men do all the bitching and manipulating.
Ronan and Robbie are naturally exceptional in the lead roles, their one scene together the clear highlight of the film as their contradictory feelings for each other – fear, admiration, spite, and love – are all apparent. It's a shame we only get to see them together for a few minutes. Guy Pearce, David Tennant, and Gemma Chan have small roles, as well as a host of other lesser known actors, but they all pale in comparison to the women we've come to see.
The stunning Margot Robbie uglies it up again under a mountain of make-up and prosthetics, in stark contrast to Saoirse Ronan's naturally beautiful Mary. The hair and make-up is Oscar-worthy, along with Alexandra Byrne's costumes. It's not, however, the best sign when as a viewer you find yourself contemplating how much time royalty spent getting their hair done in the morning, instead of the complexities of British history. It's a gorgeous film starring gorgeous and talented actresses but its plot, much like how Mary ended up, is a bit of a mess. Props to Rourke who attempted to portray a trueish story, but Mary Queen of Scots suffers in its close proximity to the recent release of The Favourite, which is the far superior choice if you want to see royalty portrayed on screen in an entertaining fashion.
Mary Queen of Scots is in cinemas from 17th January through Universal Pictures.