Italian maestro Paolo Sorrentino returns to our screens with Loro, an uneven but wickedly entertaining take on Italy's bizarre former prime minister Silvio Berlusconi. The truth really is stranger than fiction, as Berlusconi essentially wrote the Donald Trump playbook years before his orange tinted counterpart shocked the world in 2016.
'Loro' is the Italian world for 'them', those that are not 'us', the rich and powerful few who run the world and whose influence on Italian politics was tangible under this unique man's rule. It might also have a double meaning, considering 'l'oro' is 'gold'. 
Sergio (Riccardo Scamarcio) is a young businessman who has found wealth, and a good way to bribe local politicians, by trafficking escorts. His ambitions know few limits and his entourage of young women seem to trust him enough to go along with his schemes. The latest of these is to rent a villa in Sardinia in hopes of catching the eye of its famous next-door neighbour: Silvio Berlusconi (Toni Servillo), living in his summer resident with his fed-up second wife Veronica (Elena Sofia Ricci).
Berlusconi was a billionaire real estate mogul turned populist political outsider. He mobilised public sentiment about immigration and a rapidly changing world into votes while using his immense wealth and charisma to brush off scandals that would have brought down any other administration in normal times – stop me if this sounds familiar. He remains one of Vladimir Putin's closest friends and his massive media empire makes him the Italian equivalent of Rupert Murdoch.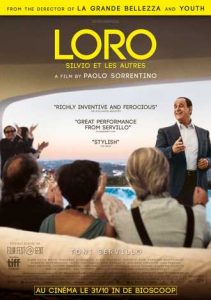 If news stories about Donald Trump raise eyebrows then spare a thought for Italians who had this man as their leader for almost a decade. Berlusconi was the face, and later the face-lift, of Italian politics during one of the most erratic times in recent history. This is the labyrinthine world of Roman politics too. If you think Australia changes leaders too frequently spare a thought for the Italians who change government more frequently than their socks.
Sorrentino isn't a filmmaker that deals in moderation. In the world of high class escorts few things are left to the imagination and in the current age of #MeToo it's a wonder the film was made. Maybe it's in poor taste or maybe the Italian culture isn't shy about sex; there's an abundance of thin, beautiful women who spend a lot of the film in little to no clothes. In one particularly wild party scene it literally rains MDMA. Some will take justified issue with the unchecked hedonism but it's hard not to get swept in the rush of it all, especially since there's an innate beauty to the human form that Italian cinema, and Sorrentino in particular, loves to put on screen.
This also seems an effort to portray Berlusconi's world on film – larger than life and not a little bit sleazy. Following allegations that he paid an underaged nightclub dancer for sex he joked: "When asked if they would like to have sex with me, 30% of [Italian] women said, 'Yes', while the other 70% replied, 'What, again?'"
In Italy Loro was two separate films released several months apart. The version we're getting is the international cut – one film, 145 minutes long. This probably explains the often abrupt tonal shifts. The front and back halves of this version share minimal tonal or creative DNA, to the degree that it's occasionally hard to keep track of what's going on. What begins as a mix of bravado filmmaking with plenty of sex and parties ends up as a sombre reflection on life and wealth as Berlusconi, left along in his mansion, reflects on what he has accomplished and what he still wants to do with his remaining years.
Loro is a loud, brash and frequently scatterbrained film about… a loud, brash and frequently scatterbrained man. The mix of tones can be forgiven because in a weird way it suits the subject Sorrentino is trying to both mock and understand. This is a riot from start to finish, wickedly entertaining filmmaking with just enough humanity for an emotional impact. Those who take issue with vice should stay away, for everyone else this is an unforgettable ride from one of Italy's best filmmakers. An intoxicating treat for the senses that's messy but not a mess.
Loro is in cinemas from 17th January through Palace Films.