For the third year running, the New Year brings us another terrific film centred on a teenage girl. Last year it was Saoirse Ronan in Greta Gerwig's Lady Bird, in 2017 it was Hailee Steinfeld in Kelly Fremon Craig's The Edge of Seventeen. In 2019 it's Bo Burham's Eighth Grade. And that a man has managed to capture the awkwardness of a teenage girl so brilliantly is astounding.
Eighth Grade centres on Kayla (Elsie Fisher), a thirteen-year-old loner who regularly uploads videos onto YouTube that nobody watches. She pines after a boy, wishes she were cool, and shuts out her single father in favour of her phone. Unlike the majority of teen films, Eighth Grade, as the title suggests, focuses on the transition period of middle school, where teenagers often find out who they really are. While the notion of "middle school" makes the film specifically American – as do scenes such as the school shooting drills – its themes are universal.
As someone in their thirties who loves a good teen film, Eighth Grade is highly relatable, and not just because of the squeaky concert band which made this reviewer shake with laughter. It's even more relatable than The Edge of Seventeen, particularly because, unlike the gorgeous Hailee Steinfeld, Elsie Fisher has acne and looks awkward in bathers. She teeters on the brink between childhood and adolescence and she chucks the word 'like' multiple times into a sentence. She wants to impress boys who she barely seems to realise are entitled little shits. She's awkward but she's assertive where it counts. She's a loner, but she's also a goddamn hero. Most gratefully, she's an introvert.
While adults will be able to relate to Kayla's plight, what clearly sets this film in the zeitgeist is the invasive presence of social media. Most of us who graduated school in the first half of the noughties are no doubt part of the selfie crowd nowadays. But thank god we didn't have to deal with it at school. Kayla seems to spend about 75% of her time on her phone. She sits at the dinner table with earphones in, she uses Snapchat filters before uploading a "casual" bedhead selfie, she regularly puts on an act for a non-existent audience on YouTube. In one scene she scrolls mindlessly through her Instagram feed to the soundtrack of Enya's Orinoco Flow (Sail Away). In another, students just four years older than her gasp at the fact she got Snapchat in fifth grade, exclaiming "She's a different generation!"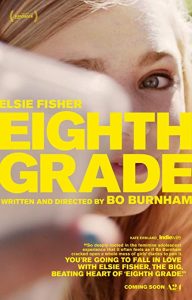 What makes things perhaps even harder for Kayla is that she lacks a female role model. Her father (portrayed beautifully by Josh Hamilton) struggles to communicate with her but it's readily apparent that he adores her and wants only the best for her. He's always there, despite her frequent rejections of his affection and attention, but ultimately this pays off when she finally realises she needs it.
Like Kayla, director and writer Bo Burham started off making YouTube videos as a teenager in his bedroom. But unlike Kayla, he gained a mass following that spearheaded his success as a comedian and musician (he's possibly America's closest answer to our Eddie Perfect or Tim Minchin). He reportedly chose a female protagonist as he did not want to project his own experiences as a teenager too closely, and also because when trawling current teen videos on YouTube he noticed that girls talked more about their souls, whereas boys talked more about Minecraft. It seems likely that despite its female lead, male audiences will still get much out of this film, even with various moments that are clearly specific to females.
Burham's experience in both comedy and music are evident in his film. Eighth Grade is frequently hilarious and the musical choices are inspired. In addition to the aforementioned Enya track, the film boasts a fantastic score by Scottish experimental composer Anna Meredith. The music accompanying certain scenes that highlight just how much of a BIG DEAL seemingly small moments are for adolescents is nothing short of brilliant.
Without a doubt, Eighth Grade is carried by the sublime performance of Elsie Fisher. Perhaps known best as the voice of "It's so fluffy I'm gonna DIE!" Agnes in Despicable Me, this is her breakout role and you will be rooting for her every step of the way. While the film spans only a small portion of time, it captures a journey of self-discovery that finishes with a very different character than the one we started with. For a thirteen-year-old, that sounds about right, and it's an absolute pleasure to watch. What a way to bring in 2019.
Eighth Grade is in cinemas from 3rd January through Sony Pictures.