Cold War is about damaged people in a damaged country in a damaged world. Polish director Paweł Pawlikowski's monochrome follow up, and in some sense the companion piece, to his Oscar winning Ida is one of the finest films of 2018. An emotional and artistic triumph that isn't to be missed.
1949. Only four years after the Iron Curtain fell across Europe, the Soviet Union dominates the East. The Eastern Bloc, gripped by a cold war and even colder winters, recovers from the worst war in human history as memories of the people's horror remain fresh. This is a world broken in body, mind and spirit, as six years of war have destroyed any hope of future certainty.
In this malaise, pianist Wiktor (Tomasz Kot) travels around the Polish countryside with a crew of talent scouts. His job is to record folk songs to raise awareness of the the new nation's identity and recruit young talent for a new musical academy. This is where he meets the young, strikingly beautiful Zula (Joanna Kulig) whose voice is stunning and whose sultry gaze hints of temptation and knowledge beyond her years. This is the story of their romance, fifteen years long and stretching across the Communist world.
Cold War is the kind of experience that lovers of restrained European cinema pray for. Pawlikowski's direction, for which he won Best Director at Cannes, is a masterclass in formal filmmaking. Every single frame, camera movement and performance is considered, gliding along in short, perfectly cut scenes to ensure that not a moment of the slim 88 minute running time is wasted. It's the kind of work that needs to be shown to film students as a lesson in visual story craft; showing and not telling.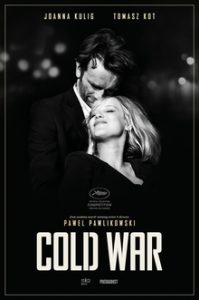 The extraordinary feat is combining stoic filmmaking with a rich emotional centre. To some it might seem cold but below the sterile surface is a sweepingly emotional story which lingers in the memory. Just like Eastern Europe, captured so beautifully by Łukasz Żal, there's a dark but passionate heart to this story and its characters.
Every single frame is a work of art. This is the most beautiful film of the year by a wide margin. Shot in black and white and in the old film academy ratio, this is akin to the pictures of mid-century Poland that are often seen in history books but infused with a smoke and jazz romantic vibe. It's the kind of intrinsic beauty that comes from cigarettes photographed in black and white.
At any second you could pause the film, print out the frame and it wouldn't look out of place hanging in an art gallery. This isn't even mentioning the dance numbers, some of the finest choreographed and performed sequences of the year.
The duo at the centre should take a lot of credit. Tomasz Kot is the kind of stubbled, piano playing, chain smoking leading man that has been portrayed time and again, but he plays the role with a perfectly honed poise. The true star is the gorgeous Joanna Kulig. In both looks and acting talent, she's Europe's answer to Jennifer Lawrence, and her performance here is extraordinary.
Filmmaking of this depth and beauty will be the toast of the award season and Pawlikowski deserves every accolade. Not a moment is wasted and every single frame is extraordinary. For those that like their cinema finely cut and quietly passionate this is unmissable. Nothing burns like the cold.
Cold War is in cinemas from 26th December through Palace Films.