As Julia Louis-Dreyfus lampoons so wonderfully in her show Veep, the Vice President's office is notorious for being a powerless vanity title for political has-beens and wannabes. But every rule has at least one exception and Dick Cheney is that fascinating exception.
Vice is the bio-drama on that man from writer/director Adam McKay. It pulls back an already mostly open curtain a little further on an almost universally detested and unscrupulous man. It kind of feels like beating a dead horse. This is a man who himself, along with his family, have embraced the frequent comparisons to Darth Vader. It almost seems as though you couldn't be hyperbolic enough to show off his dark side in a biopic. McKay does manage, creating a ruthless portrait of an equally ruthless power hungry character.
At times the film crosses from a biased picture into a plain old character assassination piece. In the introductory titles a disclaimer appears claiming the filmmakers have done their f**king best to keep the story as truthful as possible. Upon completion that feels a little disingenuous as it is clearly trying as hard as possible to portray an unlikable man as even more evil than perhaps he is. As a film the relentless negative onslaught detracts at times from the entertainment value. A protagonist with no redeemable qualities makes for an at times monotonous ride.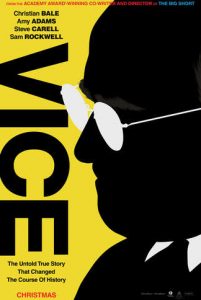 Speaking of monotony, Christian Bale captures Cheney's shark-like, monotone voice incredibly well. His physical transformation is yet again another astounding metamorphosis that will no doubt become one of the biggest talking points surrounding the feature. He brings a terrific cold, calculated dark energy to the power hungry amoral character. The other cast members also do terrific jobs, including Amy Adams as wife Lynne Cheney (her highlight being a Shakespearean soliloquy). Steve Carell brings another powerhouse 'serious' performance as Donald Rumsfeld; role by role he is arguing his case for greatest comedian/actor of this century. Sam Rockwell however, though himself a competent actor, has perhaps been miscast as H.W Bush; he doesn't quite capturing his physicality and mannerisms as well as Bale has for Cheney.
Mixed into the scathing biography are veiled criticisms of the greater republican institutes not limited to Ronald Reagan, the entire structure of Fox News, and a young president Bush who comes across as even more bumbling and incompetent than even his biggest detractors would accuse him of being. Satisfying or not, the film skirts uncomfortably with becoming a giant echo chamber for American democrats and perhaps most rational Australians.
The reason this review comes across as overly critical is because this should have been a layup for a fantastic feature, considering the cast and story. It's certainly not a bad film. But the potential of the crew and the film's own trailer belie a film much better than the actual one delivered. A non-stop negative biopic running past two hours is perhaps not as entertaining as McKay suspected. The small amount of 'ludicrous' comedy McKay is known for intersperses throughout the drama and mixes like water and milk; these moments would be better left on the cutting floor. On the whole though it's a revealing and interesting, if somewhat biased, recount on one of the most despicable figures of recent political history.
Vice is in cinemas from 26th December through Entertainment One.