In the seemingly endless stream of Spider-Man films that flow into cinemas every other year, Spider-Man: Into the Spider-verse signals the arrival of a new and welcome direction for our friendly neighbourhood web slinger. Since 2002 there has been seven Spider-Man films across four franchises. That's more than James Bond has been seen and, including Shameik Moore's voice work here, there have been more people starring as Spider-Man than there have been US Presidents in that time.
Distinguishing itself with an original animation style and a fantastic cast of voice actors, and produced by the filming duo Phil Lord and Chris Miller who did such a great job with 21 Jump Street and The Lego Movie, Spider-Verse is easily the best Spider film since Sam Raimi's lauded Spider-Man 2 back in 2004.
Instead of the regular Peter Parker story we spend our time with Miles Morales (Shameik Moore), a black teen with a penchant for graffiti tagging and hip-hop. He lives in New York, where Spider-Man saving the city against a rogues' gallery of super-criminals is a regular feature glimpsed in the distance and read about in the news. This isn't a direct continuation of either the Tobey Maguire or Andrew Garfield story-lines but it takes inspiration from both.
Miles makes his way through his teenage years, changing schools and dealing with a strained relationship with his father until he stumbles into the Spider-Man origin story we all know: radioactive spider, loss of a loved one, great power, great responsibility, etc. Where this version differs from all who've come before is the local crime Kingpin (Liev Schreiber) trying to open up a portal into the multiverse, which sucks various Spider-Men (Spider-Mans? Spider-People?)  from other universes into Miles' world, forcing him to find his own path into the web-swinging world while being tutored by seven of his multi-verse counterparts.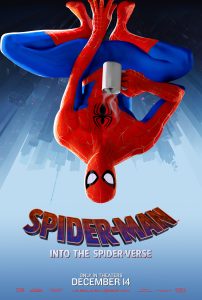 Adapting a screenplay written by Phil Lord and Rodney Rothman, three different directors (Bob Persichetti, Peter Ramsey and Rothman) have teamed up to create a fresh spin on a well worn ground with great results. Spider-Man as a character seems to tap into the core of what superhero films originally tried to convey: the sense of wonder and freedom that would come with giving an ordinary teenager superpowers and trying to do good with them.
When done right it's a recipe for perfect multiplex popcorn entertainment and the team here have done a fine job of capturing that feeling while adding their own unique flavour. Where the Lord and Miller influence shines is through humour and the pitch-perfect balance of tone, taking itself seriously enough to be compelling without falling into the depressing self-seriousness that has sunk other films of this genre.
Just like its main character, the film has heart and really endearing pluckiness that elevates it above other attempts at the same material. However, this is still a Sony film, so whorish product placement is a given and, like almost every other film from this company, it has a scene in Times Square just so it can fill the billboards with advertisements for every branch of the Sony corporation. 
The animation is the most successful attempt to capture the modern cell-shaded comic book aesthetic in a feature film. Every frame looks partially hand-drawn which mixes well with the voice work and a great deal of artistic imagination. The big issue, however, is that a lot of the background looks strangely out of focus, like how a 3D film looks when you take the glasses off and it's more than a little distracting. A few people at the screening I was at even enquired if the projectionist hadn't focused the print properly but no, apparently that's just how the film looks which was a weird choice.
From Sam Raimi's trilogy to Marc Webb's disastrous attempt at a revival to joining the Avengers, Spider-Man has had an uneven journey through his sixteen years on the big screen. This is Spidey at his best, and considering he almost stole the show in Infinity War, had a massively successful game on the PS4 and now has what might be the best animated film of the year, Spider-Man is the undoubted champion of 2018.
Spider-Man: Into the Spider-Verse is in cinemas from 13th December through Sony Pictures.