Most familiar to Sherlock fans as Mycroft Holmes, Sherlock's chiding elder brother, Mark Gatiss has until now been known more as a character actor than a lead. Though given the impression he has been able to make within meagre roles such as that, it is good to see him granted an extended showcase for his talents. This is not an easy one though. In Alan Bennett's modern-day classic The Madness of George III, Gatiss takes on the unravelling psyche of a monarch on the brink of mutiny from within his own family.
A poor actor could make a meal of the nuances of Bennett's depiction of the mad king, which deftly treads the line between absurdism and tragedy. Gatiss, under the direction of Adam Penford, proves he is more than up to the high-wire act, blending sharp wit with a horrible vulnerability of George III late in the days of his reign to take us into the mind of this real-life King Lear.
The Madness of George III returns us to a volatile time in the English empire at the end of the 18th century just as King George is hurting at having lost America. A learned man when he was in his prime, he has become increasingly erratic, much to the dismay of Queen Charlotte (Debra Gillett) and others closest to him. Now he repeats himself, babbles, lashes out, pisses blue. The fear is that he has gone mad, so the doctors are called in. Of course they don't know what to do. But of course no one can know about this, least of all the Prince of Wales (Wilf Scolding). George's daft, unloving son is so keen on his father's throne that he already has a prime minister in line to replace William Pitt (Nicholas Bishop) when he assumes power. By this time George's list of true allies has grown thin and it is left to those closest to him to find a solution for the regency crisis. In this way they find Dr Willis (Adrian Scarborough), a stern medical man of unconventional practices.
While these days it is widely believed the King's symptoms indicate he was suffering from porphyria, Willis believes part of George's problem is that he has never been reined in, his mind grown weak with the sycophancy of his royal court. From Willis there will be none of this. "You are the patient," he proclaims as he sets about breaking down his subject.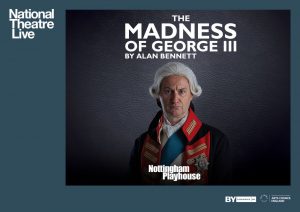 While this play has a dark heart that hones in on the trappings of untreated, or maltreated, mental illness, there is often a lot of fun to be had in Bennett's play. His wit is undiminished decades on, and Gatiss shines in his lighter moments before tracing George's decline with great tact; the King is not an admirable character but we are at least entitled to pity him as the internal battles of the medical profession are waged around him, taken advantage of by an expectant king-in-waiting. Though we could have done away with the running stool sample jokes early on.
We're told before the play that George III is cluttered with more scenes than your average play, and this is quickly evident. The scenes are shorter and dart among various congregations both sympathetic and sinister. While this allows the intrigue to be progressed on multiple fronts, it doesn't leave much time for digestion, and the sheer volume of characters seems to have the supporting cast straining for attention amid the chaos. Unfortunately Penford's direction also suffers. Setting changes are clumsily abrupt and the play's momentum is stunted time and again. It might have paid to linger here and there to consider the pivotal or tender moments between George, Charlotte and Willis.
However, as we are whisked off to the fatuous company of the Prince of Wales, it is a shame that the supporting cast are encouraged to overact their incompetency or bastardry to such an extent that it pulls The Madness of George III away from its dramatic potential. Rupert Everett set that tone much better as the Prince in Nicholas Hytner's 1994 film adaptation, just as that film navigated the tonal shifts of Bennett's play much more adeptly.
In contrast the straight-laced concern of Nicholas Bishop's Pitt is a mercy, as is any return to Scarborough's surefooted authority or Gillett's devoted performance as Queen Charlotte, all of whom handle themselves beautifully in support of Gatiss's showstealing performance.
NT Live: The Madness of King George III has a limited release from 15th December through Sharmill Films.