Christmas approaches and with it, a slew of feel-good films. Some good, some bad, some utter catastrophes. Second Act, directed by Peter Segal, falls into the latter category as a film so farcical it's embarrassing.
Maya (Jennifer Lopez) is incensed after she loses out on a promotion at work that goes to an educated douche. On her birthday she makes a wish that she lived in a world where "street smarts equal book smarts". And honestly if the film had taken that explicitly magical route, it would have been better for it. Instead, her best friend's cyber-savvy son overhears, makes her a fake CV and Facebook page, and sends in an application on her behalf to a top finance firm. She has a five minute interview and she's hired, despite not even appearing to check beforehand what the job was for. Because it's just that easy you guys.
What follows is what the filmmakers probably assumed was a delightfully hilarious series of gags involving rowing accidents, awkward dinner scenes where Maya is required to translate Mandarin, and multiple shots of JLo walking in slow motion towards the camera looking fierce. Most attempts at humour fall flat and a spontaneous dance around the kitchen to 'Push It' feels forced and awkward.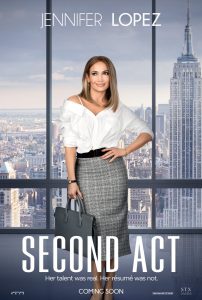 Following these not-very-funny gags, the film then develops into more than just a fish-out-of-water tale and into something with a bit more heart. I'll admit I even shed a tear. It also helps that a decent supporting cast has been assembled including Leah Remini as Maya's best friend, Vanessa Hudgens as Maya's hot young rival, and Charlyne Yi, Alan Aisenberg and Annaleigh Ashford as her work team. But unfortunately the film's few redeeming features get bogged down with terrible dialogue and a corny as hell voiceover by JLo that has you desperate for this crap to be over.
Even worse is in the apparent lack of research by writers Elaine Goldsmith-Thomas and Justin Zackham, and the fact that the film requires greater suspension of disbelief than Star Wars or Harry Potter. Plot developments are often way too convenient, involve bad science, or are just simply ludicrous. When Maya comes clean it is possibly THE dumbest scene I have seen in some time. And I saw Batman v Superman.
This is like one of those chick flicks you watch when you're ten without realising how nonsensical it is. But even then, it seems worse than that. An element of fantasy in a light-hearted chick flick can work well, but there needs to be a modicum of plausibility. You won't find that in this film. If you're after a cinema outing this month, see literally anything else.
Second Act is in cinemas from 6th December through Roadshow Films.