Following an Oscar nomination for Bridesmaids back in 2012, Melissa McCarthy is getting Oscar buzz again for her starring role in Can You Ever Forgive Me? based on the memoir by Lee Israel.
Lee Israel (McCarthy) was a celebrity biographer who was down on her luck after poor sales and a lack of support from her agent (Jane Curtin). With not even enough money to pay for her cat's vet bills, a chance find by Lee sparks an idea about how she can make money from her writing: create fake letters by literary greats and actors and sell them to collectors. The film, directed by Marielle Heller (The Diary of a Teenage Girl) and written by Nicole Holofcener and Jeff Whitty, does a thorough job in setting this up well so that we can empathise with Lee's criminal actions – her cat is sick, her apartment is flea-ridden, she can't afford a coat. Not to mention that her victims, for the most part, aren't exactly the most likeable characters.
That's not to say that Lee's actions are completely justified, with the film portraying her as a flawed individual. She's an alcoholic, her hygiene is unnecessarily poor, and she screws over a few genuinely good people. The film succeeds in deftly balancing Israel's motivations and her mistakes so that it's not difficult to understand why she made the choices she did.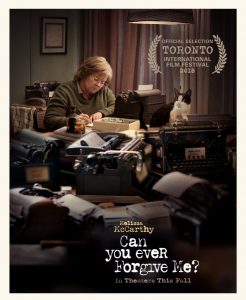 McCarthy's performance is one of the more nuanced on her resumé; there's none of her usual slapstick comedy, and while she still makes the audience laugh repeatedly, the film as a whole showcases one of her most dramatic performances. It's one of the few roles where you can forget she's Melissa McCarthy and focus on the character above all else. Her performance here is very affecting and you could certainly never accuse McCarthy of avoiding unglamorous roles.
Richard E. Grant as Lee's friend and accomplice, Jack Hock, shines in one of his best roles to date. Jack is completely over the top but it's the most convincing Grant has ever been. Lee and Jack's unusual friendship is the highlight of the film. It's far from traditional but that's why it's such a pleasure to watch.
Truth can be stranger than fiction and Israel's story is a fascinating one, making for an enjoyable and quirky film. As well as being a strong character study, the film provides an entertaining insight into the world of collectors and the literary elite who find themselves the butt of the joke. The closing scene in particular is delightful. With a lot of heart and a lot of laughs Can You Ever Forgive Me? is one of the better films you're likely to find this December.
Can You Ever Forgive Me? is in cinemas from 6th December through 20th Century Fox.