Back in 2000, the film gods gave us Billy Elliot, a story about a boy who wanted to break gender stereotypes and be a ballet dancer. In a supporting role, Billy's friend Michael is revealed to enjoy cross-dressing, with this scene celebrated in one of the best numbers in the stage musical adaptation (which premiered on the West End in 2005), 'Expressing Yourself'. Elton John's lyrics include "What the hell's wrong with wearing a dress, being who you want to be… What the hell is wrong with expressing yourself? For trying to be free". It's a beautiful moment but its place in the show is mostly as a comical reprieve from the drama of the main character.
Fast forward another decade, and we've come a long way with gender identity and diversity, but there's still a long way to go. Back in 2011 sixteen-year-old Jamie New decided he wanted to wear a dress to prom and was told by the school administration he was forbidden to, causing a backlash. With dreams to become a drag queen, Jamie's journey was told in the BBC documentary Jamie: Drag Queen at 16. His story was then adapted into the stage musical, Everybody's Talking About Jamie, debuting in 2017 in Jamie's home town of Sheffield, and transferring to the Apollo Theatre in the West End later in the year. In 2018 it was broadcast live to cinemas, with screenings now finally occurring internationally.
Everybody's Talking About Jamie, directed for the stage by Jonathan Butterell, is our updated, cheekier, ballsier version of Billy Elliot as we head towards another decade. Jamie (John McCrea) is out and proud, and for the most part is surrounded by supportive allies who celebrate him and his dreams. There is bullying, yes, as well as parental rejection, but the tone is optimistic, and unlike Billy Elliot which seems to use Michael as somewhat of a punchline, Jamie is the hero of the story. When the bastards try to get him down, he throws some sass their way and gets on with it. In style.
That isn't to say that there are not scenes that will break your heart, notably those concerning the shittest dad in the world (Ken Christiansen). But this is balanced well by a beautiful mother (Josie Walker) and together they are perfect examples of the worst and the best way to parent, respectively.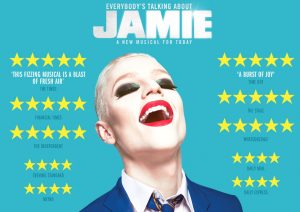 This is a show that is refreshingly diverse in many ways, including the representation of different ethnicities on stage. This is evident from the opening scene featuring Jamie's classmates, which includes his best friend, Pritti (Lucie Shorthouse) a Muslim girl who wears a hijab, and she isn't the only one either. For diversity on stage done right look no further.
Dan Gillespie Sells contributes an impressive score featuring a mixture of peppy toe-tapping numbers that you will have in your head for days ('And You Don't Even Know It', 'Everybody's Talking About Jamie', 'Work of Art') along with some lovely ballads ('If I Met Myself Again', 'He's My Boy'). Tom MacRae contributes the lyrics (as well as the book) and Jamie's numbers certainly feel very adolescent ("You're so blah blah and you don't even know it, I'm like au revoir and you don't even know it") and I AM HERE FOR IT. At times the lyrics in the group numbers are difficult to decipher but you get the general idea. Like Billy Elliot it's all sung with heavy British accents and it showcases the original work that the West End has to offer, setting it apart from Broadway. Nominated for five Olivier awards, it went home empty-handed but probably only because it was up against Hamilton.
John McCrea oozes presence as our hero Jamie and he doesn't let up the energy for a second. One of the benefits of these filmed productions is seeing how much sweat can accumulate on the actors' faces and he certainly isn't in short supply. You have to feel for an actor who has to dance around the stage in a bloody blazer. And the boy can MOVE. McCrea imbues Jamie with so much energy and passion that you feel like you could never root for someone so hard in your life.
The most jaw-dropping performance, however, comes from Josie Walker as Jamie's mother, Margaret. Not only is her acting on freakin' point when it comes to the spoken dialogue, but her two big numbers are absolute showstoppers because of how much she makes you FEEL ALL THE DAMN FEELS. All I could do was sit in shock at the masterclass that was her performance.
The rest of the cast are all fantastic, including Lucie Shorthouse as Pritti, our own Tamsin Carroll as careers teacher, Miss Hedge, Phil Nichol as Jamie's mentor, Hugo/Loco Chanel, Mina Anwar as Margaret's best friend, Ray, and Luke Baker as school bully, Dean, who shows just how unoriginal and embarrassingly lame bullies can be.
At 163 minutes (including a 20 minute interval to grab a choc top) get ready to settle down for a full length stage production and love every goddamn moment of it. You'll laugh, cry, marvel at what a man can do in heels, and rejoice in what musical theatre can achieve. If we keep getting gold like this the world will be a better place for it.
Everybody's Talking About Jamie is screening in selected cinemas for a very limited time from 24th November through Sharmill Films.