Few things make people roll their eyes as much as a girl obsessed with a boyband. The crazy, screaming teenage girl who has lost her grip on reality and thinks this crap is music.
But if we all stop being that arsehole for a minute, we might just understand what it is about these manufactured groups that makes them so appealing to young women. That it's a rite of passage, a way to get through the tortures of adolescence, a welcome break from the extremely UNromantic boys they have to deal with in reality. Seriously, who wants an acne-ridden douche trying to get into your pants when you could just daydream about Nick Carter/Harry Styles/JT/insert-gorgeous-young-man-who-can-sing-here instead? Because they don't care who you are, where you're from, what you did, as long as you love him, and they want you back for good because you don't know you're beautiful. Pure poetry, amiright?
Turns out, these fixations don't always end by the dawning of adulthood. In fact, the film's director, Jessica Leski, reportedly got the 'One Direction Infection' at the age of 31, despite realising how manipulated she was being by savvy marketing. But her own experience isn't something explored in her film, I Used to be Normal: A Boyband Fangirl Story, with Leski staying behind the camera. Instead, she interviews four women, three of whom are now adults, about their love for their favourite boybands.
Leski, who crowdfunded the documentary with the assistance of The Backstreet Boys, includes a varied mix of subjects. There's Elif, a 16-year-old from Long Island, infatuated with One Direction. The daughter of Turkish immigrants, the film follows her across two years as she develops a passion for song-writing. Sadia is a 25-year-old Pakistani-American from San Francisco who was once the self-appointed president of a Backstreet Boys fan website, who realised on a BSB reunion cruise in recent years just how 'crazed' a fan she was. On this side of the world, Dara is a 33-year-old gay woman from Sydney who continues to idolise Gary Barlow from Take That, and 64-year-old Susan looks back to when she was one of those screaming fans at the front of the masses when Beatlemania hit Melbourne.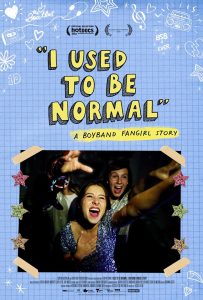 A key theme in I Used to be Normal is the establishment of identity, most often played with in adolescence and then cemented in adulthood. Perhaps not surprisingly, it is sixteen-year-old Elif, who initially comes across as the most 'crazed' of the four, who seems to move past her obsession by the time the film catches up with her two years later. Her fandom is presented as more of a phase, but one that played a key role in her finding her passion in music as a potential career path. In contrast, the three adult women continue to have strong connections to their chosen bands, with their fandom being a core part of their identities. The effect on their relationships – both with family and romantic partners – is explored, as well as the idolised notion of love that is presented by these bands in their personas and their lyrics.
One criticism is that the structure and editing choices in the film are difficult to figure out at times. While the order of clips is likely deliberate in the story that Leski wants to tell, it can feel disjointed. At times it feels like we're spending a lot of time with one or two of the women and hardly any with the others. Towards the end of the film it becomes clear that each woman's story is being wrapped up nicely, but the middle section often feels rather hodgepodged.
For a film about boyband fandom, there are a few surprising omissions. Given that three of the four women's beloved bands broke up, I expected more on the emotional reactions this evoked, however only Dara speaks about this. It's also surprising that the film doesn't really go into the hyper-intensive emotions of adolescence and how this impacts on fandom, other than briefly in the final moments when Susan, the oldest subject, discusses this. It must be said, however, that her comments on this were a lovely way to end a film; they are full of love and respect for the younger generations. Only one segment goes into detail about the boy band brand (by Dara, whose job is a brand strategist) but as Leski has stated, this is a film about the girls, not the bands.
Boyband fandom is something often scoffed at, and I Used to be Normal does provide many laughs through the women's disclosures. But above all, the film is a celebration. Of fandom, of finding yourself, of cute boys who can carry a tune, and most importantly of girls. It is guaranteed to leave a smile on your face.
I Used to be Normal: A Boyband Fangirl Story is in cinemas from 22nd November through Madman Films.