Watching with neck craned from the second row, it may be tempting to blame a middling response to Fantastic Beasts: The Crimes of Grindelwald on the angle of viewing. Yes, it is hard to gauge a film's technical achievements when everything fast-moving is a blur and Eddie Redmayne's teeth loom not smilingly but as great monuments to dental hygiene. But then it will also be a wonder if anyone else remembers much of the immaculate detail contained within this film either; the scattered plotting alone will probably keep most viewers busy for a while.
After settling largely for introductions in the first Fantastic Beasts, J.K. Rowling and veteran Potter director David Yates now get down to establishing the roots for a franchise-long narrative, and it looks a little slapped together. Grindelwald is so tightly packed with Easter eggs, plotting, subplotting and backfilling of familiar names that it can be hard to keep up with what exactly Rowling is pointing towards.
As we pick up a few months on from the first film, when criminal mastermind Grindelwald (Johnny Depp) was captured due to some nifty work from Newt Scamander (Redmayne) and his Pokémon-style artillery, Grindelwald has made good on his threat of escaping. Now he's heading for Paris, his quest for a pure-blood-dominated world hierarchy gathering momentum. The wizarding world is duly worried — not only because he is the world's most powerful wizard but also because of what he might achieve if he were to catch up with the distraught Clarence Barebone (Ezra Miller), the orphaned 'obscurial' who was almost destroyed by ministry wizards after blowing up half of New York and who has fled to Paris.
The cavalry are in close pursuit. Following Grindelwald is American auror Tina Goldstein (Katherine Waterston). Following her are her sister Queenie (Alison Sudol) and Queenie's muggle lover Jacob (Dan Fogler), and soon so is Newt — with some nudging from a secretive Albus Dumbledore (Jude Law). Newt's brief is to stop Grindelwald but he is also just generally smitten with Tina. And hang on, there's more. Following them is an anxious Ministry of Magic delegation, which just happens to include Newt's brother Theseus (Callum Turner) and his fiancé Leta Lestrange (Zoë Kravitz) — Theseus's fiance, not Newt's.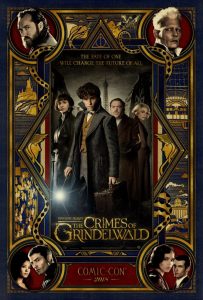 Does that all make sense? Well, tough.
Revelations in the Lestrange and Dumbledore families will pique the interest of Potter diehards, while those unfamiliar with the Potterverse will have to work hard for their joy in what is very much a film catering for a fanbase. Rowling's instinct will always be for more rather than less, and in that sense Grindelwald is a fairly typical Rowling novel, heavy and convoluted with some cosy Hogwarts interludes. But while Grindelwald hits the mark at times, at others Rowling clearly loses sight of how much detail a screenplay can take, and how much her other novels have had to be cut down to allow her imagination to take flight on screen.
Flitting here and there, as if from chapter to chapter, she seems compelled to swamp her audience in layer upon layer of intrigue, introducing about 200 new characters, navigating a love quadrangle, reflecting the divisive social forces of our time and foreshadowing the tragedy we know befell Europe from the 1930s, all in the same breath. In attempting this within a packed 134 minutes, rarely do Rowling and Yates have time for the levity or curiosity that elevated this film's predecessor. Unfortunately such opportunities are consigned to exposition, which makes you wonder if any script editors ever got a look in to help free up space. Let your characters breathe, Jo!
For these reasons Grindelwald can't help but be disorientating. Neither can the film's stuttering progress quite warrant the gasps from the audience that its final moments are hoping for. Perhaps this is because Fantastic Beasts, by this time, is no longer the series people were expecting. That cheerful umbrella title no longer quite fits the terse forces of light and dark crowding beneath it in this ashen-faced world.
That said, Grindelwald is not the complete disaster its initial critical reception may have suggested. Despite logistical complications, it is rarely less than entertaining and teases more than enough to send rumour mills into overdrive. Rowling promisingly delves into a tense political divide over the secrecy of the wizarding community that should provide ample fodder for future installments, and it's also a delight to see such an intricate world fleshed out geographically. The spires of Hogwarts are undeniably comforting, but the 1927 Parisian world of magic is a beautiful addition, lively and rich in Art Nouveau elegance. This isn't even mentioning Newt and Tina, who provide a much appreciated spark amid the darkness surrounding them.
Perhaps such a purely scene-setting film was always going to be frustrating, but we can only hope that all concerned know what they're doing. And if they don't, well, they've got money and an audience and they're going to do it anyway.
Fantastic Beasts: The Crimes of Grindelwald is in cinemas from 15th November through Roadshow Films.