Shoplifters is a film with little subtext, overtones or hidden meanings. It's a film that offers up its narrative and characters simply, and ruminates powerfully. Director Hirokazu Koreeda conjures a strong story containing both tragedy and poignant warmth; it never once feels conceited or hyperbolic.
The film centres on a tiny Japanese unit where a family resides. It's a decently sized ensemble and the cast includes father Osamu (Lily Franky), mother Nobuyo (Ando Sakura), Noboyu's younger sister Aki (Matsuoka Mayu) and matriarchial grandmother (Kirin Kiki) who owns the tiny apartment. There are two things that differentiate the family from the typical Japanese one. Firstly they are incredibly impoverished, barely afloat financially as they all chip in however they can. Secondly the family are quickly revealed in a very matter of fact manner to not actually be blood related. They are instead a makeshift family constructed by need and fortuitous circumstance.
The film begins with father Osamu and son Shota (Jyo Kairi). They are walking back home after shoplifting some snacks and groceries, an activity they engage in regularly. They come across a young girl of five, Juri (Sasaki Miyu), foraging in the freezing conditions for food. Osamu recognises a teachable moment for his son and invites her back home for food and a warm night. The next day when they take her back home they overhear her parents fighting loudly, attacking each other for how their daughter Juri has ruined their lives. Coupled with the evidence of physical abuse young Juri has endured it seems a no brainer to extend her stay and soon she becomes a loved member of the mismatched family.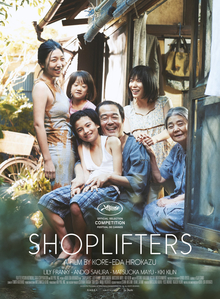 Through the introduction of Juri we are invited into the world of the tight-knit family. Their tender and jovial interactions elicit feelings of protectiveness for the impoverished family. Each character is selfless and well written, but it is the father and mother's love for each other that sets the tone for every relationship. The father is full of levity and warmth. The mother is self-sacrificing and patient. Despite major setbacks that again and again would bring tension to any household already under financial stress, the family's reaction always is to pull together and share what little they have, perennially in good spirits. It never feels too idealistic or caricatured; they simply respect and enjoy each other's company.
The final act hits with a devastating force. Every connection is torn and examined afresh under the light of what's appropriate in a societal context. The two children who would unlikely find love and protection within the cogs and mechanics of the welfare system or from their abusive parents are cared and loved for within a niche that exists outside that system. When Nobuyu, the mother, is confronted by a supercilious female officer who contemptuously asks if she 'kidnapped' Juri because she is barren, you can see her earnestly letting the question rattle around her brain, tormenting her before she finally answers dejectedly: perhaps yes. As a viewer you want to scream "No! That's not true!" Any film that can illicit that response is worth viewing.
Koreeda has constructed a powerful, intimate film with great pathos and an almost documentary feel when delving into the minutiae of family. It's moving and tender but never feels heavy handed or manipulative when creating the highs and lows. Not unlike all great films it's one that sticks with you for a good while after viewing. It's a worthy winner of the 2018 Palme d'Or.
Shoplifters is in cinemas from 15th November through Rialto Distribution.