When one of the finest actors of his generation leads in a play by the greatest writer in the history of the English language the result is, unsurprisingly, amazing. National Theatre Live is back for the second time in two years with a production of King Lear, previously performed in 2016, with Gregory Doran directing Antony Sher, with Sir Ian McKellen taking up the mantle of the title role. With a totally different approach and taking place in the relatively small Duke of York theatre, this is a long and successful adaptation of one of the Bard's densest plays, added extra gravitas as this might be the last time McKellen plays a Shakespeare lead on stage.
King Lear (McKellen) has ruled as England's monarch for many years. Proud and sporadically ruthless, the only thing that seems to be able to stop this intimidating man is the ravages of old age. Deciding to spend his remaining years without the burdens of authority, we open with Lear splitting his kingdom between his three daughters on the proviso that each of them declares how much they love him. The two eldest Goneril (Claire Price) and Regan (Kirsty Bushell) are awarded their third as soon as they speak but Lear's youngest and most beloved Cordelia (Anita-Joy Uwajeh) can't find the words and decides to say nothing. "Nothing will come of nothing" Lear declares and in a rage banishes her to France. As a power struggle between Lear's eldest daughters and an invading army plunges the kingdom into chaos, Lear flees into the wilderness and slowly goes mad.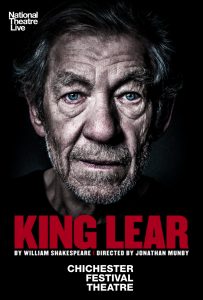 Playing any of Shakespeare's leads is a Herculean challenge for any actor but it's one that McKellen has regularly taken up throughout his sixty year career. At a mammoth three and a half hours including a thirty minute intermission, Jonathan Munby's adaptation feels more contemporary that other takes on Lear. A play about a kingdom falling into factional fighting as its longtime leader begins the process of stepping down should be a treasure trove for any director in the age of Brexit, but it doesn't seem to reach any great connection with the fascinating state of current affairs. 
McKellen is, needless to say, flawless. He's played Lear before but at the age of 79 this must be one of the most intimate connections he's had with a character as he and Lear are the same age. Feeling the body atrophy and thinking about their legacy as the world they know changes rapidly adds many layers to McKellen and his fictional counterpart. Adorned in military regalia and surrounded by contemporary props, McKellen is the largest and greatest part of this massive play.
Supporting work is varied. There's fantastic work from Sinéad Cusack as Kent and Danny Webb as Gloucester, but then on the other end of the spectrum is Kirsty Bushell's strange and irritating take on Regan, coming across like psychopathic little girl. Maybe any performance would come off as second-best in the presence of an actor with the calibre of McKellen, but there's a lingering feeling that other cast members aren't in the same league as those around them. 
George Bernard Shaw once remarked that "No man will ever write a better tragedy than Lear". Playing the main role in such a massive undertaking is a task that McKellen has gifted the theatre going world for decades. Mundy's adaptation lets itself down on some stylistic choices – the contemporary weapons and some of the props don't work very well – but it's worth seeing this for McKellen alone. No man may ever write a better tragedy but it's unclear whether any man will ever play the role as confidently and as nuanced as McKellen.
National Theatre Live: King Lear has limited screenings from 3rd November through Sharmill Films.