Roma appears to be the biggest independent hit of this year. So avant-garde that Netflix is not only producing it, but giving it a theatrical release to be eligible for festival recognition. That has paid off, with Roma winning the top prize at the Venice Film Festival. At its introduction Guillermo Del Toro stated that the film now inhabits a place within his personal top five favourite films ever. The early reviews from festivals proclaim a perfect film has been made.
It's with trepidation I say the emperor wears no clothes. Either that or my own personal taste is spectacularly out of frequency with the secret global filuminati of critics. I don't get it. I signed the paperwork saying Michael Bay is the worst human alive. They sent me my bravery pin when I said Nolan's Batman films were overrated. Will I be kicked out now?
In seriousness, Roma is a return to both the location and linguistics of Mexican cinema from celebrated director Alfonso Cuaron who also does the cinematography. It's a black and white piece exploring the minutiae of Mexico City and the life of a nanny within the city, retold from Cuaron's own personal memories. It's beautifully shot. Yet achingly dull.
The film follows the story of Cleo (Yalitza Aparicio) for just over a year in the early seventies. She is one of two live-in maids who serve a well-off family. It's a portrait of a stoic selfless woman. There is an earnest sadness in the reality of her nonstop chores and the humility and acceptance she has for her place in life. She begins her domestic duties as soon as she wakes and finishes only after the family go to bed. She is both part of the family and separate from them. It's only with the two young children that we see a genuine connection. The mother snaps at her when stressed. The father somewhat ignores her presence. Preoccupied with a mistress on the other side of town, when he does come home he complains that the house is a mess within earshot.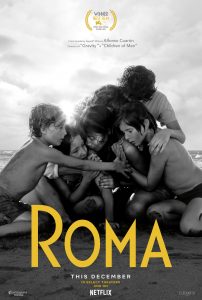 The highlight of the feature is the camera work from Cuaron. He is a maestro placing us within the environment creating an intimate portrait of one person's life. No more is this evident than when he places the lens just above the height of breaking waves as Cleo rescues the children from a rip. In trepidation we follow her out into dangerous surf watching as the waves crash louder and get higher and higher yet somehow stay level with the camera creating a three dimensional depth on a two dimensional screen. It's an incredible moment of well crafted drama. Cuaron has no fear in letting shots like these run as long as needed.
But no amount of beauty nor immersive reality make ups for a story that really sells the feature short. At the end of the day this is the earnest telling of a maid who suffers varying amounts of tragedy. Her resilience is admirable but it's not exactly riveting plot. To illustrate the point, the opening scene is magnificently shot as the opening credit backdrop is revealed to be tiles that Cleo is washing. Throwing buckets of water again and again over the screen it's oddly mesmerising and no doubt represents something significant such as the unrelenting nature of time washing over her. But it still remains a five minute shot where nothing happens.
It is worth noting that besides Marina de Tavira who plays the mother of the privileged household, every member of the cast has no professional acting experience. Not that you can tell; Aparicio has genuine talent and grace. It will be interesting to see if the woman plucked from rural Mexico continues an acting career.
The shots are beautiful sub-stories, snapshots of shared Mexican experiences interwoven with Cleo's character. This is an attempted layered film that inverts the scope of a film such as Cuaron's previous film Gravity, honing in on one person's experience. If the character doesn't resonate with you then expect the film to fall flat.
Roma is screening as part of the Cine Latino Film Festival from 13th to 28th November.