Luca Guadagnino refers to his latest feature Suspiria as a cover version rather than a remake. It's a fair call; the redo bears little resemblance to the 1977 groundbreaking classic beyond the Germanic setting and the plot involving a witches coven disguised as a dance school. It's also of interest how different this feature is to his prior work – 2017's Call Me by Your Name, inarguably one of the most favorably reviewed films of last year. Comparing Call Me by Your Name and Suspiria as chalk and cheese is understating the difference; the two share nothing in common beyond being visually sumptuous.
From the outset it's clear this is going to be a divisive work for audiences. It's a story told in six acts plus an epilogue; subtext: 'arty'. There is plenty of symbology, plot tangents, metaphors and cigarette smoke to fit that description. The flip side of looking at the film is of a masterpiece of slow cinema with subtle character dynamics, a cinematography that tells its own story and a haunting powerful mood with Guadagnino behind the lens pulling strings of subconscious unease.
The film takes place in Berlin 1977. Patricia (Chloe Grace Moretz) talks to her psychiatrist Dr. Josef Klemperer (an unrecognisable elderly male played by Tilda Swinton). 'They'll hollow me out and eat my cunt on a plate' she divulges in a lucid moment amidst a delusional stream of consciousness. Patricia prowls around the room, covering the eyes of any portraits or illustrations in her therapist's library. After the session she bids her doctor farewell and is never seen again.
Dr Josef sets it upon himself to find out her fate, setting out to the dance company the star pupil resided in. While Dr Josef's cursory investigations take place, a new star enters the academy, Susie Bannion, Dakota Johnson. Susie is an ex-Mennonite, obsessed with dance and the academy from a young age. She immediately spikes the interest of all the patrons, in particular head instructor Madam Blanc (also Tilda Swinton).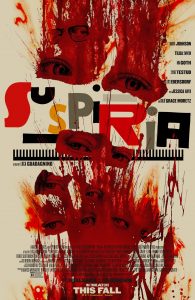 Johnson and Swinton have immeadiate chemistry, both giving powerhouse performances. Johnson paints so well the portrait of a naive and eager student and is utterly transformed into something more powerful and mysterious by the end. Swinton takes her time revealing her true nature, though to the audience it is immeadiately obvious the studio is a facade for a dozen or more witches to reside in, with Tilda herself being one of the more powerful witches and definitely the most interesting, having the lion's share of screen time.
The witches are completely beguiling. Their motives are mostly unknown but their sinister nature is revealed in horrifying glimpses. They provoke both terror and oddly enough, empathy. Not unlike their external environment of Berlin they are in a state of flux. Their deep power structure linked to their ancient Mother Suspiria is undermined by two matrons both claiming to be the rightful reincarnate. The humanity of the witches is displayed through Madame Blanc's connection to Susie, which is protective and nurturing. Yet conversely she also has no qualms in using Susie in ritualistic voodoo dance to horrifically torture and contort the body of her former prodigy and would be Patricia replacement Olga (Elena Fokina), a character we are led to believe Blanc also once held in tender regard.
The metaphors and subtext are plentiful and percolate throughout the lengthy feature. It's no coincidence the film is set during the release year of the original in 1977. It was a period of social upheaval, terrorism and youth revolt against the perceived lack of denazification of power structures. There are plenty of shots of grey concrete buildings imposing over the characters and stone cobbled streets. The weather is perpetually miserable. Adding to the mood is a melancholic score from Thom Yorke. He has picked an excellent film as his first to follow compatriot Johnny Greenwood into the world of cinema. His haunting piano melodies and minor chords contrasting with his soothing voice are a perfect accompaniment for the film.
Also contained within the grand scope of the film is a reversal on gender dynamics. Most pointedly this is a film with little room for men. They are the women's play things to be ridiculed, controlled and if lucky, have mercy bestowed on them. There are only three men in the picture, two bit part detectives mocked and manipulated by the coven and Josef (played by a woman don't forget). Josef is harangued and guilted by the witches for not listening to his Jewish wife who begged him to leave pre-Nazi Germany. 'Women speak the truth and you tell them they're delusional' they accuse him. He is chosen to bear witness for the crescendo ritual and one can't ignore that this is mostly due to his sex. It's a note worth mentioning in a film of vast themes.
The crescendo is the centrepeice of the film. It's an extended awe-inspiring mixture of blood red choreography. There is sacrifice, rebirth, and plenty of mysterious pieces all falling into a fantastic, yet logical conclusion. It ties the film together wonderfully. Up until the ending accusations of empty symbology might be founded. It's a relief that yes, the previous ninety odd minutes of terrifying imagery and clues do click together. It's the kind of ending which merits a re-watch of the picture.
As with any passion piece with lofty ambitions this will challenge and polarise. It's cerebral horror devoid of jump scares. As a guiding piece of advice, if you enjoyed the perversely dark atmospheric tones of Hereditary proceed heartily into Suspiria.
Suspiria is in cinemas from 8th November through Transmission Films.