Hunter Killer is a bit of a throwback for war movies of late, taking the scene away from the desert battlefield to underwater Russia. Director Donovan Marsh delivers a taught film, fraught with tension and high energy, and the threat of a return to the Cold War.
When an American submarine is torpedoed in Russian waters, a search and rescue mission is required. The guys at the Pentagon (Common and Gary Oldman) are not sure who's responsible, and they need to know if the Cold War is about to kick off again. With the best and brightest submarine captain now killed in the line of duty, a new guy, Joe Glass (Gerard Butler) is promoted and sent to the US navel base on the Scottish coast. When Glass and his crew get to the sunken ship, they discover that the original sub has been attacked, but the enemy ship appears to also have been sunk as a result of an internal explosion. Glass and his crew set about to rescue the enemy survivors, while back at the Pentagon more trouble is afoot. The Russian president has walked straight into a trap, and NSA agent Jayne (Linda Cardellini) enlists Rear Admiral Fisk (Common) to help her convince the rest of the defence force that they need to save the Russian leader in order to prevent all out war.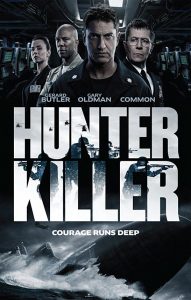 Perhaps what is most impressive about Hunter Killer is the level of tension, sustained for the entire duration of the film. At bang on two hours, Hunter Killer never eases off the intensity – either above ground or under water. The benefit of the underwater scenes is the close, tight, over populated spaces of the sub; everyone in close confinement, hard to see what's happening outside. The outdoor scenes draw tension from the opposite spectrum; a small group of men in plain sight, with little to no communication with the rest of the world. The film draws really well on the tension of the two parties navigating blindly towards each other, hoping to cross paths but uncertain that either will get there.
The underwater rescue mission is dreadfully far-fetched and generally the film is borderline nonsensical, but keeps it together just enough to offer up a modicum of plausibility. Dialogue is the usual exercise in brevity; clipped, macho and plenty of stating the obvious. All the cast are polished and professional, and the production values are very slick. The underwater soundscape is very impressive, and the CGI and green screen work is excellent. Overall, not bad.
Hunter Killer is in cinemas from 1st November through Roadshow Films.