Queen is about to sell a lot of albums again, or whatever is today's modern equivalent. As audiences emerge from viewings of Bryan Singer's biopic about Queen frontman Freddie Mercury, Bohemian Rhapsody, they are going to struggle to get Mercury's catchy melodies, Brian May's iconic guitar solos, John Deacon's groovy bass lines and Roger Taylor's stadium-made drum beats out of their head.
That's because Bohemian Rhapsody is primarily an excuse to give most of Queen's back catalogue another run, while immortalising the rock legends for yet another generation that never got to see them perform live. Whether or not this is a cynical view depends on how much you like Queen. If you love them, you're going to love what Singer and writers Anthony McCarten and Peter Morgan have done here. And if you don't, then this certainly isn't the film for you.
But first, let's focus on what the fans will like. For such viewers, this cinematic love letter will leave you feeling electric in the same way that gigs enliven you with energy. That's not dissimilar to what this film is: a best-of package of Queen's most exhilarating live moments, one after another, culminating in their memorable Live Aid performance at Wembley Stadium in 1985. If the filmmakers wanted to save money, they could have achieved a similar effect by simply broadcasting actual live footage from the band's history on a big screen. Here, they only go half that length, using actual Queen sound recordings rather than expecting lead actor Rami Malek to master Mercury's phenomenal vocal range.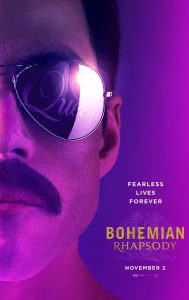 There's a lot going on in between the songs, but unfortunately the film is too scattered to focus on any particular aspect of Mercury's life. Not unlike an episode of Flight of the Conchords, Bohemian Rhapsody tries to cram plot points between each musical moment, hoping that each section of dialogue contains enough exposition to segue into the next track. But whereas Flight of the Conchords is a silly 20-minute sitcom, Bohemian Rhapsody is a 2-hour-long epic drama where years of Mercury's life are covered in minutes (and sometimes conveniently folded into hyper-eventful evenings in which he finds love, joins bands and revokes his birth name all in the space of a few hours).
By the end of the film, audiences will be familiar with most of the narratives of Mercury's life – his mixed relationship with his familial heritage and cultural identity, his connection to girlfriend, Mary Austin (Lucy Boynton), his realisation about his sexuality, his clashes with his bandmates, and ultimately his battle with AIDS. The film's biggest problem is that it fails to cover any of these topics with any depth, skimming from one to the other before finding another distraction. Likewise, many characters remain underdeveloped, none more than Paul (Alan Leech), whose relationship with Mercury is more ambiguous than it needs to be. McCarten and Morgan could have streamlined the film by zeroing in one or two aspects of Mercury's life or career, but instead opt for a comprehensive start-to-finish narrative that never quite knows how much it wants or needs to say. This lack of clarity translates into the script as well, with the usually eloquent Mercury and his peers given some rather unimaginative and trite lines of dialogue with which to work.
But to poorly quote Mercury from the title track, does this really matter? To most audiences, the lasting memory of Bohemian Rhapsody will be Mercury's show-stealing performance at Live Aid or any one of Queen's other classic hits such as We Are The Champions or Don't Stop Me Now. These hits, and the way Malek is able to capture Mercury's persona and eccentricities, should be enough to gloss over the film's flaws and ensure a fun ride for anyone interested in being reminded of Queen's musical prowess.
Bohemian Rhapsody is in cinemas from 1st November through 20th Century Fox.