Have you ever wondered what happens when offensive not-safe-for-work content is uploaded to sites like Facebook? As users, we know that it gets taken down, but by whom and how?
In The Cleaners, directors Hans Block and Moritz Riesewieck demonstrate that these questions are worthy of their own documentary film. Their 90-minute exploration lifts the lid on the process that companies like Facebook and Google would prefer you not to see – the daily verification 'cleaning' that hundreds – if not thousands – of Filipino workers do for a living. For every image or video that goes reported (content containing violence, terrorism and pornography, for instance), a Philippines local must make a decision: 'delete' or 'ignore'.
At first, this appears to be a necessary activity and the interviewed subjects speak of the honour of protecting the world from such harmful content. Block, Riesewieck and co-writer Georg Tschurtschenthaler show us the merits of their actions; they are doing a job that we're glad is being done yet one we're glad we're not doing ourselves.
But as the film goes on, The Cleaners show us that there are many nuances and grey areas to censorship, examining how the daily actions of these workers have major implications for democracy and freedom of expression. One by one, the directors tackle subjects such as nudity, terrorism, war crimes, hate speech, and politically-motivated commentary to make us reflect on what belongs on our screens and what doesn't.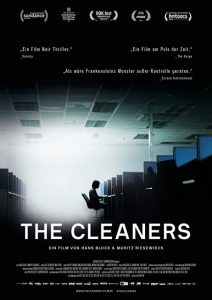 Layered on top of this is the additional context of the Philippines workers, living in a conservative Christian society where its populist leader Rodrigo Duterte advocates for the death penalty for all drug traffickers. Furthermore, getting a job in the Philippines is not easy; not everyone has the luxury of quitting their job – even one that subjects you to hours of distressing content.
At a time when being cynical about social media and condemning its role in society is very in-vogue (if not overdone), The Cleaners' commentary on such issues occasionally feels like something we've heard or read before. But by regularly returning the narrative back to the Filipino subjects, the film ensures it is bringing a fresh perspective to the table. The brave individuals who share their story are the democratic heroes of the piece, risking employment to expose a practice that is otherwise never discussed.
Block and Riesewieck deserve credit for giving each subject sufficient opportunity to share their story, while still managing to delve into so many topics in a short time frame. The filmmakers always appears to be one step ahead of us – after showing us an image that the Filipino employees have deemed worthy of deletion, it then goes on to present us with the counter perspective, of people and groups who would object to the deletion of that content. In doing so, we meet not-for-profits who use footage from conflict zones to track war crimes and save lives; artists who use provocative works to initiate civil society debate; and even a few right-wing Trump voters who would kill for their right to preach hate.
The filmmakers aren't too interested in displaying the gratuitous images the Filipino workers must encounter on a daily basis, but there are a few scenes some viewers may prefer to avoid seeing. If you're understandably a bit squeamish, it's best to turn away when they begin discussing beheading. Likewise, there are some scenes where the content discussed is quite distressing, including descriptions of self-harm and child abuse.
While The Cleaners gives us plenty of perspectives, it stops short of endorsing one over another; it is more of a conversation starter than a solutions-focused manifesto. The film's role is evidently not to tell us who is right and who is wrong, but to open up a few doors we didn't realise were shut.
The Cleaners screens at ACMI from 19th October to 6th November through Madman Films.