It would be remiss to talk about Bad Times At The El Royale without naming the elephant in the room, so let's be upfront about it; director and writer Drew Goddard really really likes Quentin Tarantino.
From start to finish, El Royale is filled with stylistic flourishes heavily inspired by Tarantino's body of work, most notably his most recent Western-inspired film The Hateful Eight. Similar to that 2015 film, El Royale is based primarily in one setting – in this case, a symmetrical hotel on the border of California and Nevada that Wes Anderson or Stanley Kubrick would kill for.
Less important than the hotel itself are the five people who happen to be visiting during this one fateful afternoon: a vacuum cleaner salesman (Laramie Sullivan, played by Jon Hamm), an ageing priest (Daniel Flynn, Jeff Bridges), a struggling soul singer (Darlene Sweet, Cynthia Erivo), an elusive wildcard (Emily Summerspring, Dakota Johnson) and a repentant bell boy (Miles Miller, Lewis Pullman). Each character finds themselves at the hotel for a different reason, and Goddard's multiple-perspective thriller allows us to sit back and watch these lab rats pursue their goals at the expense of one another. And it is a joy to watch.
Goddard borrows more than a few chapters from Tarantino's playbook, not least the art of chopping the film into chapters. Silent movie-esque title cards break up the different stanzas, each accompanied with their own distinct montage and music choices. Similarly, Goddard isn't afraid to match Tarantino's pacing, letting the scenes unfold in a deliberate fashion. We even get a metronome to set the beat at one stage, courtesy of Darlene's vocal practice. For a film where there's more than a little violence, the stilted rhythm is sometimes a bit hard to believe but that's also part of Goddard's style; he's happy to trade in a bit of authenticity for a bit of theatrical flair.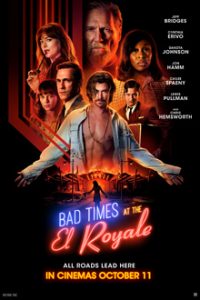 What makes the film so engrossing – and perhaps what makes the 141-minute running time so justifiable – is that each character is given their own back story, making the audience privy to their motivations. Likewise, there is little room for tokenistic roles or minor cameos; every character and their actions are intentional and an important indicator of who they are.
There are, however, two side effects of this. One is that El Royale opens up plenty of tangents, not all of which it is able to resolve. The second is that is leaves us wanting to know more about three characters whose back stories are too brief and filled with ambiguities: Emily, her sister Rose (Cailee Spaeny) and the messianic Billy Lee (Chris Hemsworth). Unfortunately without understanding the extent of their cult activities, these characters are less able to elicit our sympathy than the others we meet inside the hotel lobby.
Compared to Tarantino's catalogue, El Royale is more interested in being an exhilarating ride than being profound in its message. There are a few nice themes that may stimulate conversations on the way out, such as loyalty to family, sin and redemption. Otherwise, it's a little shallow in terms of dialogue despite there being a lot of it. Whereas Tarantino dialogue can be charmingly tangential and banally human, Goddard's characters are more stylised, if not caricatures at times. He is excellent at showing us the characters' emotions through his storytelling, but is less strong at getting them to speak it. This is a picky criticism, and not one intended to take the film down a few notches. Rather this is where Goddard has room for improvement, to distinguish himself as a successor of Tarantino rather than a carbon copy.
What's worth noting is that you're unlikely to notice these flaws during the film-watching experience; you're far more likely to be immersed in the world Goddard has constructed. And perhaps that's the point; El Royale is a fun cinematic experience, a ride that many audiences will be happy to partake in again. It may not go down as an all-time noir classic, but it will grip you for as long as it holds your attention.
Bad Times At The El Royale is in cinemas from 11th October through 20th Century Fox.