In his debut feature, Australian director Stephen McCallum has explored the violent frontiers of the wild west, but not in the usual sense. 1%, set in the out suburbs of Perth, follows a power struggle breaking out in an outlaw bikie gang. This intriguing and intricate tale flows like a really messed up version of Shakespeare, as murder, betrayal and shifting power dynamics combine in the melting pot of the Western Australian heat. Think of the Bard but with leather jackets and the word 'cunt' thrown around with reckless abandon.
While their formidable leader Knuck (Matt Nable) is in the slammer, his apprentice Paddo (Ryan Corr) has become president of the Copperheads, one of the 1% clubs in the bikie underworld. The 1% references the American Motorcycle Association's claim that 99% of motorbike riders are law abiding citizens. It does not mean that this motley crew got lucky in Wall St trading and have Marxists yelling at them the rest of the film – amazing as that would have been. Things are getting complicated; deals with a rival club are being brokered and trouble constantly surrounds Paddo's younger brother (Josh McConville) who seems to have a serious learning disability. As Knuck gets out of prison Paddo and his girlfriend Katrina (Abbey Lee) have a decision to make. Do they fall back under Knuck's brutal presidency or usurp the club and lead it to new heights?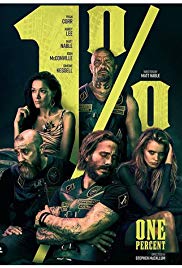 Former rugby league player Matt Nable, who put on almost fourteen kilos of muscle for the role, stars in and wrote this brutal tale. The plot is dense, sometimes to the point of confusion, but credit to Nable and McCallum for trying to accomplish something more than the usual crime thriller. There's a rawness to this story that lingers; it quite literally pulls no punches and in a story that contains shootings, gang violence and two brutal rape scenes it's a journey not for the faint of heart.
Ryan Corr's career continues to new heights. He's proven many times that he makes for a good leading man and having bulked up and grow a very respectable beard Paddo is unlike anything he's played before. With a cigarette constantly in his mouth and Russian mafia tattoos on each shoulder, his time as Timothy Conigrave in Holding the Man seems like a distant memory. The hidden star is Abbey Lee who spends her time pulling strings from the sidelines like a bogan version of Lady Macbeth.
McCallum's depiction of bikie gangs certainly doesn't glorify. As intriguing as this tale is these people are constantly scraping the lower dregs in the barrel of society. It would be difficult to imagine a more repellent underworld as this. This is a closed society, it uses the old cinematic short-hand to depict how insular this community is. Just like in The Godfather how the only characters are members of the family and those close to them, the only company to find in 1% are crew members and rival gangs. It's not a nice view of the world, but it's one that McCallum has brought to the screen with a deft eye.
Australian filmmaking has a talent for making hard-hitting, gritty crime thrillers. 1% slots in nicely alongside Romper Stomper, Chopper, Animal Kingdom and Snowtown. It's brutal, repellent and a no-holds-barred depiction of one of the most revolting collections of people imaginable. If that's your jam then this will satisfy, as it ticks all the depraved boxes that a decent crime thriller should.
1% is in cinemas from 18th October through Icon Film Distribution.