Based on the novel Beam Ends by Errol Flynn, In Like Flynn is a memoir of the adventures and life of the man before making it big in Hollywood. Flynn is known for a great number of reasons: the first big Australian film star and possibly the first action star, notorious womaniser with a prolific appetite for the bottle and tobacco. This memoir draws from his experiences before he was known for anything and was simply a young man with a thirst for life stronger than most.
NIDA graduate Thomas Cocquerel stars as the titular man himself. Boyishly handsome with a cheeky grin always ready he's a good fit. Thomas is like a man possessed, bouncing around the camera's frame ready for fight or friendship with any man, and a wink or possibly more for any attractive woman.
The screenplay has four credited writers, and one is Errol's own grandson Luke Flynn who also produces the film. It's a great adaptation of a story from a man known for embellishment. Flynn assembles a rag tag team of old friends and new, stealing a Chinese pirate ship to go sailing to New Guinea for gold and adventure. It's a great action story that doesn't rely on a world in peril for high stakes.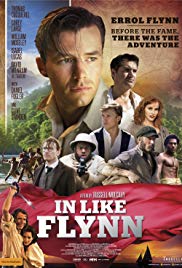 Veteran aussie actor David Wenham has a great appearance as Townsville's local mayor/priest/shonky underground boxing promotor. The rest of the cast also do admirably in what is a great Australian production. Russell Mulcahy is at the helm after nearly a decade's absence from big screen direction. The cinematography by Peter Holland is a stand out with locations like the jungles of New Guinea, a gritty Sydney part way through the harbour bridge construction, and the Queensland reef as the primary backdrops of the story.
It's towards the latter stages of the film when the boat is moored where the film starts to falter. While the action is plenty engaging the drama and character relationships leave the film a little wanting, in particular, Isabel Lucas playing 'love' interest Rose. The relationship is reasonably contrived and doesn't hold up to scrutiny. Flynn's hyper inflated Lothario nature doesn't serve the film well. It's a difficult angle to present in the current #metoo climate, and the production accentuates the light-heartedness angle of Flynn's relationship with women. In any situation with a pretty girl he's like a puppy with a stick.
This is a great action story. There is a nostalgic feel to the production reminiscent of the old heyday epics of Flynn's own Hollywood era, though that momentum falters towards the end. The supporting cast is wonderful. With the exception of Clive Standen's character of Charlie it would have been a delight to have more of their individual backstories fleshed out. Errol is a fascinating multi-faceted case study. However, this particular picture chooses only to showcase his swash buckling, zesty, larger than life persona that endeared him to a public for decades.
In Like Flynn is in cinemas from 11th October through Umbrella Films.