There are three things missing from Venom. A good story, clear direction and an R rating. What it does have going for it manages to cancel much of that out: surprisingly funny gags, Tom Hardy, and well that's about it. So, if you like slacker humour and Tom Hardy, get ready for a mildly enjoyable ride.
Tom Hardy is Eddie Brock, an investigative journalist with a heart of gold. Brock is pressured into doing a sham PR interview with Carlton Drake (Riz Ahmed) whose company has hands in every scientific advancement from space exploration to medical breakthroughs. With his creepy/genius CEO vibes Drake is like a slightly more robotic Elon Musk.
After confronting Drake on the slight unethical matter of using homeless people as human guinea pigs Drake ends the interview and has Brock fired. Dishevelled and jobless, Brock continues on with his investigation. Breaking into Drake's facility he comes into contact with a alien symbiote known as Venom. The symbiote fuses with Brock's body and a dysmorphic hero is born.
The highlight of the film is the binary of harmony and disunity as Brock and Venom learn to co-pilot the same vehicle. The film milks their quarrelling for all the mirth it's worth. Be warned, it's fairly juvenile humour. After incapacitating a gang of bad guys Venom suggests biting their heads off for the simple kinesthetic joy of making one pile of bodies and one  pile of heads. Tom Hardy is on record as describing the dynamic of Brock/Venom as analogous to Ren and Stimpy which is an apt comparison. Despite director Ruben Fleischer playing up the body horror aspects in the media which there definitely are; this feels much more like a buddy cop movie akin to Rush Hour or Shanghai Knights than The Fly or The Thing.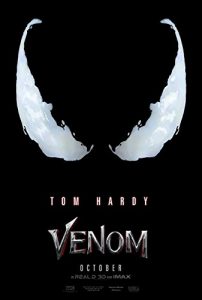 Onto the weaknesses; this is a film with no tone or clear indication of what it wants to be. There is almost zero emotional attachment to any of the supporting characters and plenty of big names are wasted. In particular uber talented Michelle Williams is a casualty of a stale screenplay. Playing the on-then-off girlfriend of Eddie she really has not much to do other than support him when he's good and chastise him when he is not. Riz Ahmed, who has a decent chunk of screen time as the villain, is also hamstrung by lazy writing and the one-dimensional motivations every villain has in this strand of flicks.
With all the possibilities for storylines I don't know what the excuse is for choosing one so bland. These movies aren't made for surprise or suspense but Venom feels like it's just going through the motions moreso than usual. I suspect the producers handed out checklists to everyone pre-production – Love interest. Check. Reluctant hero. Check. Stan Lee cameo. Check. Seemingly undefeatable bad guy. Check. Have hero defeat him. Check.
The vanilla story gets watered down even further with a final showdown battle that is a piece of anti-climactic CGI, reminiscent of mashing all the buttons for avatars in arcade games. The humour is the redemptive element here. I have to admit giggling throughout most of the film. Fleischer has a knack for finding the absurdity of  high stakes drama.
The sliver of hope for the foreseeable sequels is in Venom himself whose propensity for biting heads off and eclectic and contradictory composition makes for a fascinating character. Personally I would love James Mangold to get his hands on him after seeing what he was able to transform the Wolverine character into with Logan, the gold standard for these comic films. On a scale of milk to hot sauce you can put the sting of Venom somewhere around the sweet chilli bottle.
Venom is in cinemas from 4th October through Sony Pictures.