Group projects at school were invariably a mess, and the cohort of six writers responsible for the latest Kevin Hart vehicle, Night School, don't seem to have learnt much from that experience. Hart, Harry Ratchford, Joey Wells, Nicholas Stoller, John Hamburg and Matthew Kellard all somehow squeezed their way into the writers room to give director Malcolm D. Lee enough material to last a surprisingly swift 111 minutes, this time bringing in Tiffany Haddish, whom Lee teamed with on Girls Trip only last year. But it would be hard to hard to say that what they come up with constitutes a story. This has all the look of a short-notice patch job riding on the charisma of its leads.
Hart and Haddish are magnetic performers when improvising. And while it's no surprise to be laughing aloud when their rapport is allowed to shine, it is also a shame that we couldn't just have that energy throughout. The narrative they are working within doesn't exactly ring with wisdom, even if it is well-intentioned, and we're resigned to sit through a skeleton plot that seems to lack any of the ambition and effort that it aims to encourage in its ensemble of struggling mature students.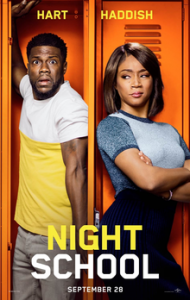 Night School starts, just as Hart's last film Central Intelligence did, in the school gym. As a teenager, Teddy (a cornrowed Hart) sits down to take the exam for his high school diploma but gets cold feet. The words and numbers on the page are doing their own thing and he gives up with a yelp. But this decision and his unwillingness to ask for assistance will come back to haunt him. If only he'd had more help in school, he might not have found himself strapped for cash and a job, lying to his fiancée about his financial success and needing to go to night school to sit the GED to get a job at his mate's investment firm. His new teacher, Carrie (Haddish), is, for better or worse, part of the solution and isn't planning on giving anyone an easy run.
Night School is something of a poor man's Community, and there is little in here that hasn't already been said in that show's breadth. But where Dan Harmon's writing was that show's strength, it is probably unsurprising that Night School's is Hart's and Haddish's energy. So while the rest of the clumsily assembled elements are very much a case of diminishing returns, it is at least entertaining for much of its running time owing to its leads. When their natural banter is taken away, the jokes can get a little tired. And with so many jokes made at the expense of Kevin Hart's height, you have to wonder if he is being limited by school-based stories written as an excuse for Hart to play a teenager. Because, in case you didn't get the joke, he's short.
Not only is Night School a little uninspired, it can also be confusing. The 'Stay in school, kids' guiding principle is admirable, and it's nice to see Hart follow up tackling bullies in Central Intelligence with tackling learning disabilities and targeted teaching, but there is a case to be made that he doesn't really learn much to justify the redemptive tone. In the course of the film Teddy and co are responsible for destroying a shop, crashing a car and more. Far from facing charges, Teddy has even been offered a job – conditional on passing his GED – as an investment analyst because he's a natural salesman. Never mind the lack of market expertise, personal money smarts and honesty; he'd be fine. So what's the message there? Who knows, but still: aim high, kids.
Sometimes you just wish they'd look at the script and say, 'To hell with that, we're better, we're funnier'. Because if their stand-up careers and Saturday Night Live experience are anything to go by, Hart and Haddish are indeed funnier than any mediocre scenario this script might throw up for them in a plot that was probably done better by The Simpsons in the roughly similar 'Homer Goes to College' and in a fifth of the time.
Night School is in cinemas from 27th September through Universal Pictures.