Don't Worry, He Won't Get Far on Foot is a return to form for Gus Van Sant after the underwhelming Sea of Trees. Joaquin Phoenix does an immense job playing John Callahan, the deceased cartoonist, paraplegic, and reformed alcoholic native to Van Sant's own Portland.
The film is told in two parts, switching between two versions of John. In one he is a successful artist addressing a packed auditorium, the other a reforming alcoholic addressing an AA meeting. He tells the early story of his life, prior to his disability. It's an engaging and well paced recount. The uncomfortable reality of alcoholism is strewn throughout the film; John excuses himself chatting up a girl at a party to sneak into the bathroom to mix hard liquor into his beer. The self immolation and alienation he creates in social settings creates voyeuristic gripping drama.
On a standard night of heavy drinking John encounters a new acquaintance (Jack Black), the two recognising the same addiction within each other. The two drive around, on the lookout for a better party with better chicks and more booze when Jack crashes the vehicle. It's rock bottom for Callahan. Nearly quadriplegic with a hangover he isn't able to day drink away. What ensues is a medley of scenes of John struggling to cope with his new reality and his journey towards quitting alcohol through Alcoholics Anonymous.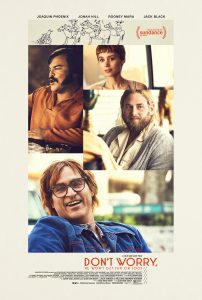 Jonah Hill kind of steals the show at this point playing enigmatic AA sponsor Donnie. Hill is doubling down on his career ambition of being taken seriously. He has slimmed totally down with glamorous locks reminiscent of actor slash model (and not the other way around) Fabio. The result is Hill looking like the glamorous younger brother of Dog the Bounty Hunter. His character is a peculiar mix of cult leader and Dalai Lama. Donnie's mix of lao tzu philosophy whilst surrounding himself with opulent possessions and no BS approach to recovery make him weirdly endearing.
Rounding out the cast is Rooney Mara, playing European therapist and love interest, Annu. Despite being only one or two degrees from manic pixie dream girl their relationship is wonderfully adult without resorting to film cliches. You'll also find highly enjoyable bit parts given to female music royalty Beth Ditto, Carrie Brownstein and Kim Gordon.
Van Sant has a reputation of hit and miss. Tears win awards but there is a fine line to skirt with emotional dramas.  A sense of manipulative or contrived tragedy can easily turn a viewer off. With this project Van Sant hits the nail right on the head. Save for a slightly soppy fifteen minute prologue closing the film it is otherwise a poignant behemoth of cinematic sorrow. I can count on one hand the number of films that have reduced myself to tears as a young cynical man. This film sits within that tiny list, and cliche or not, the best descriptor for this feature is 'heart wrenching'. It's not all tears and tissues; John's acerbic and politically incorrect take on society balances out the morose nicely.
The invisible imprint of Robin Williams flows through this project and he is appropriately mentioned within the credits. Having bought the screen rights more than twenty years ago, he was set to star in this before his recent tragic demise. Joaquin Phoenix's performance is admirable but still one can't help but wonder how Williams would have portrayed this tortured, artistic soul whose composition and story reflects William's own real life character.
The film will resonate with both sexes, however, it does feel like more of a distinctly male film. Alcoholism and addictive compulsions affect men at higher proportions, though of course anyone can enjoy a moving take on the human condition. The huge theme behind it all though is forgiveness. It's a remarkable areligious take on absolution and recovery.
Don't Worry, He Won't Get Far on Foot is in cinemas from 27th September through Transmission Films.