Director Eli Roth takes a well deserved break from traumatising adults and embarks on a new challenge with The House With a Clock in Its Walls, deciding to have a go at traumatising children instead. The torch bearer of torture porn, with titles like the Hostel series and Cabin Fever under his name, has a go at directing not only his first children's film but his first non R rated film.
The story centres on newly orphaned Lewis (Owen Vaccaro) who is sent to live with his mysterious uncle Jonathan (Jack Black) in the fictional American town of New Zebedee in 1955. Lewis is an introverted bibliophile picked last in gym class after the kid with polio. His uncle on the other hand is a boisterous and welcoming eccentric. Jack Black decides to play the character as a better manicured version of Jack Black.
The two live in a Victorian house with as much life as the occupants. It's a mansion infamous to the other kids in school for an axe murderer that seems to exist in every small town's urban mythology. Whilst at home Lewis notices paintings move and reform in the corner of his eye. The furniture seems alive. And his uncle and his equally mysterious neighbor Mrs Zimmerman (Cate Blanchett) discuss the weirdest topics like entering the walls of the house. On top of all this are the myriad of ticking clocks filling every room.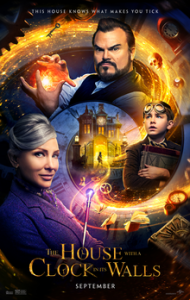 It's great world building from Eli Roth, and cinematography from Rogier Stoffers. The house is filled with antique wall paper, heavy curtains and rugs, and old mahogany shelves jammed with thick leather books. It's a wonderful Victorian introduction to a younger audience and the constant mystery drip fed to the audience keeps the film chugging away nicely.
Once the mysteries do begin to unravel, the film likewise slowly loses its pace and enigma.  The key antagonist to the story Isaac Izard (Kyle MacLachlan) is mishandled. MacLachlan playing a dark wizard in a gothic children's fantasy seems a perfect match. But his character is more Gargamel  than Voldemort. I don't blame MacLachlan for this but more the emotionless CGI body he inhabits for the majority of his performance.
None of the actors come out of this looking too good – save Blanchett. The child actors do well enough, but there are no standouts. Black is torn between playing magnanimous and injecting too much of his admittedly likeable goofiness. MacLachlan is hampered by CGI and the usual one dimensional motivations the bad guys get in movies like this.  Blanchett is the saving grace stealing focus from even the zany, squirmy Black. She does wonderfully, managing to pull off the oxymoronic combination of authoritarian with warm and inviting.
While the film begins as a great mix of Edgar Allan Poe meets Lemony Snicket, it slowly slips from gothic to graphic as Roth chooses to focus less on character and plot and more on creepy caricatures.  Failing to hold the initial momentum and charm it initially establishes, we end up with an anti-climatic finale despite high stakes. There's also the nagging sense of plagiarism of recent successful orphan and magic fantasy adaptations. The source material being close to fifty years old and having plenty of time to seep into the collective creative conscious results in an unfortunate sense of seen-it-already for much of the plot.
The House with a Clock in Its Walls is in cinemas from 20th September through Entertainment One.