From the comfort of Australia it's easy to roll our eyes about some of the peculiar habits of those living elsewhere in the world. China's unusual obsession with pre-wedding photography, the practice where almost-married couples dress up for elaborate photoshoots in fantastical settings, is seemingly perfect fodder for our amusement. But director Olivia Martin McGuire's documentary does not exist to poke fun at this unlikely cultural phenomenon; rather she reserves judgement and uses this novel topic as a starting point to produce a thought-provoking and nuanced piece of journalism about many interesting facets of modern China.
Throughout China Love, McGuire shares the stories of dozens of fascinating Shanghainese locals, young and old. Pre-wedding photography is the bridge between these disparate case studies and gives the film plenty of colour and liveliness. But to reduce this to a film about pre-wedding photography would be undermining McGuire's efforts to tell a broader story, one about China's history, its culture, its attitude towards romance, and its poverty to riches narrative.
The most prominent narrative comes in the form of interviews with young Chinese couples who are going through the process of getting married. Each couple walks us through the journey of a typical Chinese relationship, starting with the process of parent-guided matchmaking, to an exploration of gendered wedding rituals, all the way through to the expectations of childbearing placed upon recently married couples. Throughout all of this, romance is a secondary objective; doing the family proud is considered paramount.
McGuire juxtaposes these stories with those of China's older generations, of grandparents whose wedding photographs constitute little more than a black-and-white government passport Polaroid (sans smiles). For such couples, elaborate photoshoots, let alone romance, was unfathomable during their early years of courtship; simply surviving Mao Zedong's brutal Cultural Revolution was all they could focus on. From an audience's perspective, there is a major payoff from these scenes, one that will have you grabbing for tissues during the film's final act.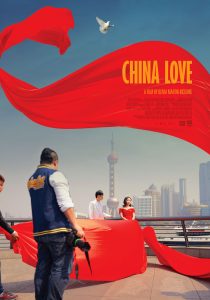 The other story we follow is that of Allen Shi, the chairman of The Jiahao Group, China's biggest pre-wedding photography company. Arguably too much focus is given to Jiahao and Shi, who is portrayed as the Chinese equivalent of Mark Zuckerberg, however the exploration of his character gives us a richer perspective of the China's varying levels of class. He is the symbol of the Chinese capitalist dream, a misnomer in a state that is still technically communist.
The film is clearly created for a Western audience, if not an Australian audience, and McGuire certainly doesn't shy away from drawing attention to how our cultures differ. In doing so, she doesn't tell the audience what to think; rather she gives us plenty to think about.
With Shi, we're asked to contemplate whether his poor upbringing justified his ruthless business practices, in which he publicly humiliates his staff to teach them lessons about attention to detail.
For the young couples, it's hard not to ponder life from their perspective and weigh up where their loyalties lie – to their family, their peers, their culture or each other.
And for the older generation of Chinese, we're left to consider whether the trauma they overcame as part of Mao Zedong's so-called Cultural Revolution justifies the strict traditions they have passed down the family line onto their unmarried children and grandchildren.
And then there's the wedding photography business itself. Is it all just a bit of harmless fun or is there something troubling about the industry's obsession with dreams and impossible realities? Is the Chinese Dream just a shadow of the American Dream?
These questions make China Love more than a simple one-dimensional documentary about a niche topic, but a colourful exploration about China that will pique the curiosity of many audiences. Perhaps those more familiar with Chinese culture could potentially find the film a little unfocused at times, but McGuires's diverse platter of interview subjects and perspectives should nevertheless serve as a useful conversation starter for all.
China Love is in selected Australian cinemas through Demand.Film. See here for session times. If you can't find a location near you, you can host your own screening and sell tickets via your social media channels to your mates and colleagues.