John Cho takes Facebook stalking to a whole new level in Aneesh Chaganty's feature debut, Searching. When his daughter Margot (Michelle La) goes missing, David (Cho) goes looking for answers online.
Standing apart from your typical thriller, Searching takes place entirely on a mock computer screen. We see David make video calls, visit websites, check his messages and emails, watch the news, and even film his interactions through the use of spy-cams. Initially it feels like this style of film might be draining – just watching mouse click after mouse click on a screen. Surprisingly enough, it becomes incredibly tense.
Chaganty's "digital thriller" reportedly took just thirteen days to shoot after two years of prep in the way of editing and animating. It's an impressive debut because of its novelty, and it highlights the remarkable feats that technology can achieve. While Detective Vick (Debra Messing) follows the usual protocol, David does some thorough investigating on his own, mostly via his and Margot's laptops. He isn't some technical genius either; it's all pretty basic stuff that any adult under the age of 50 could probably manage. In addition to demonstrating just how much technology can help us, the film also highlights other issues concerning the use of technology – trolling, the power of the hashtag and bandwagoning, widely shared conspiracy theories, and the secrets that teenagers can keep so well hidden from the people who supposedly know them the most.
Chaganty and co-writer Sev Ohanian deliver a strong narrative with some exciting developments. It would be an obvious move to drop subtle hints in corners of the screen when David has multiple tabs open, but for the most part this tactic isn't used. In hindsight there is possibly one obvious indication of things to come, but the film generally does well in keeping its cards up its sleeve. There are moments when the power of an image hits the audience, sending a chill right through the bones as realisation strikes. Do yourself a favour and stay away from trailers if you want to experience any twists and turns organically.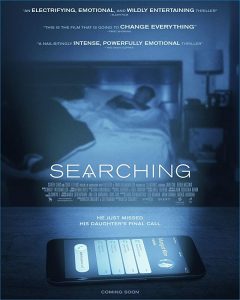 It's encouraging that Searching is the third Hollywood film in under a month to feature an Asian lead (or leads), following Crazy Rich Asians and the Netflix hit, To All the Boys I've Loved Before. Most viewers will be familiar with John Cho, who does an admirable job in carrying the film almost independently. Michelle La is not quite as strong, however given it's her first screen role beyond 'Korean Girl Singer #2', she most likely still has room to grow. Making up the main cast, Debra Messing seems an unusual choice given her comedic roots, but she pulls it off.
Ultimately, however, this film is one of the rare few where the acting performances aren't central. The father-daughter relationship is a major theme, but the portrayal of their relationship is most often communicated through text here. The film's main goal is in creating a tense vibe through little more than screen shots of conversations, snippets of video, and other bite-sized pieces of text. Imagine the feeling of waiting for a highly anticipated email to finally hit your inbox, multiply it by 100, and you're part way there. Add a foreboding score by Torin Borrowdale and the tension is heightened.
This may not be the film for older or more traditional audiences, especially those with a narrow idea of what a film should be. For those who enjoy new experiences in the cinema, Searching should satisfy. Capturing the technological zeitgeist, it's a film that is likely to date quickly. For now, you can expect to see it trending, and for good reason.
Searching is in cinemas from 13th September through Sony Pictures.