When a new writer/director's first feature film is a team up with a largely unknown leading lady and the results are phenomenal, we know we're looking at a well of talent just being tapped. Beast is like a modern day fairy tale, not the kind that are told to children but the progenitor of the bedtime stories; the uncanny folktales which disturb those willing to go down their twisted courses.
On the channel island of Jersey a string of uniquely grizzly murders have been taking place. For the isolated community this is far from anything that has happened previously, and small town paranoia is starting to set in. One resident is Moll (Jessie Buckley), a twenty-something young woman stuck in a rut whose problems seem to trace back to her family, especially her overbearing mother (Geraldine James with a wonderfully acidic performance). Working a dead-end job, caring for her sick father and constantly holding her tongue as she watches everyone around her achieving things, Moll's life seems to be in a particularly disappointing depression.
A major shake up happens when she meets Pascal (Johnny Flynn), a newcomer to the island whose half-cocked smile and penchant for guns hint at something sinister lurking below the surface. He's either Prince Charming or the Big Bad Wolf, and as Moll falls under his spell this twisting tale goes to the dark heart that lies in them both.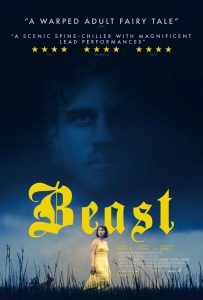 This is Michael Pearce's first time directing and writing a feature film after making several well received shorts. The script was inspired by a real case of a man dubbed 'the Beast of Jersey' who terrorised the island in the 1960s, and Pearce, who grew up on Jersey, brings an insider's eye to this island and its inhabitants. He has a talent for subtle story telling, showing rather than telling and hinting at things bound to make skin start crawling.
In one of the year's best performances Irish singer and TV actress Jessie Buckley has announced herself as one of Britain's best up-and-comers. In a brave and constantly intense performance Moll becomes one of 2018's best heroines. Much like the film she's hard to pin down, vulnerable but with a very dark heart which threatens to lash out at any moment. Buckley is called upon to show every conceivable emotion, from falling into passionate love to psychotic despair and she manages to hit every single beat. Johnny Flynn opposite her, who was fantastic in the National Theatre production of Hangmen, does a fine job as well, but the sheer intensity of Buckley overshadows everyone around her. This is hopefully the film that puts Buckley on the pantheon of British talent; she deserves every single award she's nominated for.
It's the unique visuals and the fantastic use of sound which make the film work so well. Without resorting to shock tactics or cheap jump scares Pearce makes this truly unsettling, one of the finest horror experiences of the year. Benjamin Kracun's cinematography shows off this unique island with both beauty and a sinister tinge. The many shots of beach and the grassland hint of something lurking beneath; just like these characters the island looks perfectly good on the outside but shelters the twisting darknesses within.
Beast is like a fairy tale for grown ups, Red Riding Hood if made by a spiteful alcoholic writing poetry, but without any of the tackiness that that description might conjure up. Pearce is able to make both skin crawl and hearts beat faster without falling into horror's usual pitfalls. There's an eerie quality to this that lingered for days, memories of shots and sequences that reemerged whenever the lights went out. Those who like their horror films psychological, dripping with atmosphere, and held together with a script that deals with substance will find a new genre favourite.
Beast is in cinemas from 13th September through Icon Film Distribution.