Good songs sometimes take a while to get going, and the same could be said of Brett Haley's drama-cum-musical Hearts Beats Loud. We begin by meeting Frank Fisher (Nick Offerman), a grumpy record store owner who spends his days smoking inside his unpopular store, watching YouTube videos and drinking to his former glories at the local bar. He's the polar opposite of his intelligent daughter Sam (Kiersey Clemons), who loves studying and is doing everything right to get into med school.
It's only when the two start jamming – Frank on guitar and drums and Sam on vocals and keys – that the film finds its rhythm. Music changes the energy that both characters bring, particularly Frank, who evidently has little else going for him. For him, music not only represents an opportunity for him to bond with his daughter, but an opportunity to dream. And if you're willing to ignore the Electra complex undertones, in which Frank sees Sam as a substitute for the musical dreams he couldn't pursue with his deceased wife, it's actually a really sweet relationship.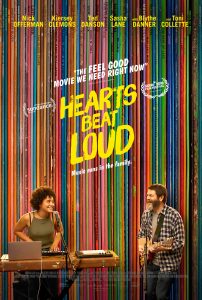 Heart Beats Loud follows a similar formula to John Carney's trio of musical films – Once, Begin Again and Sing Street. Keegan DeWitt's contagious numbers, performed on set by the multi-talented Offerman and Clemons, are not here to fill up space, but to drive the plot forward. Every lyric reveals something new about the characters who sing them, while repeated codas feel like a reunited friendship rather than a broken record needle.
Music aside, the Heart Beats Loud world is full of authentic characters whose relationships and dialogue with one another are truthful. In a genre where it's possible to get away with clichés, director Haley is not content with predictability. There are scenes where you can half-expect what might happen next, but Haley and co-writer Marc Basch instead exposes his characters to the most likely human responses, which sometimes includes feelings of regret, awkwardness and discomfort. This rawness provides room for the film to explore a range of themes in a mature way, none more pronounced than that of change and conflict. For Frank, it's the notion of losing a job and a daughter in the same breath. For Sam, it's the tension of pursuing a set path in life amid the spontaneous curve balls that love and potential fame can throw.
Experienced duo Toni Collette and Ted Danson don't have flashy roles, playing Frank's landlord and bartender respectively, if not his only friends. Their understated characters match the tone Haley is trying to create by being flawed but honest humans. There are numerous unanswered questions about both, among others, during and after the film, but it's not Haley's intention to explore each of these trivialities. Just as life often doesn't offer clear answers, neither does the film's plot labour through every distraction.
Hearts Beat Loud is in cinemas from 6th September through Park Circus.