There are a few Australian traditions which are at once unifying and divisive – small rituals which exclude some and divide us into "teams" and "others". Sport is one such tradition which has immediately divisive signifiers. The word "footy" for instance can mean any one of three different codes in this country which instantly define which state or territory you come from, and depends on the colours of your scarf, which suburb or even socio-economic group you come from, and indeed your family background. But "footy", whatever it means to you, can also bring people together and foster a sense of community. In these times of us vs. them with even the citizenships of our elected representatives up for debate, we need unity more than ever, and that's where The Merger comes in.
Based on comedian Damian Callinan's successful one-man live show which told of his time playing regional football (in this context AFL), The Merger tells the story of an outsider's unusual plan to save his town's failing football team by recruiting newly settled asylum seekers to fill the ranks. Covering topics such as bio-dynamic farming, regional refugee settlement, small town politics and xenophobia, The Merger is not only a warm, funny, family friendly film about Australia's favourite past time and it's importance to life in a small town, but a timely tale of acceptance, sacrifice and unity.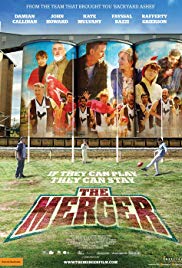 Writer and star Damian Callinan plays ex-AFL great and town pariah Troy. He's coaxed into helping the local footy team by rambunctious potty-mouthed Neil (Rafferty Grierson) a young boy in town whose gruff, racist grandfather Bull (a pitch-perfect performance from possibly typecast John Howard) is president of the club, and whose mother Angie (Kate Mulvany) is head of the refugee resettlement centre. A motley crew of small town types fill up the ranks of the team, but Sayyid (a standout performance from emerging star Fayssal Bazzi), recently released from detention after fleeing Syria, soon emerges as the team's star.
Director Mark Grentell, whose previous film, Backyard Ashes wove a similar story of personal issues playing out through sport, has directed an incredible cast of oddballs into a tight community. What The Merger does particularly well is tackle heavy hitting issues such as the refugee crisis and Australia's hard-line policies regarding asylum seekers, and deals with them with tenderness and understanding without being preachy. What the film ultimately shows us is how damn simple it is for us to accept one another, and what we stand to gain from understanding the experiences and struggles of others. Throughout the film Troy encourages his team to learn about one another, beyond the surface information and into the very essence of each individual, and as they start to embrace one another they become a team both on and off the field.
Most of the laughs in the film come from obvious sources, but it is the balance of substance and levity, which make the film an instant classic.
The Merger is in cinemas from 6th September through Umbrella Films.