Adelaide. Known for its great wine and churches, the city has a rich connection to Aussie cinema. The alumni of its shooting locale includes Breaker Morant, Shine, Gallipoli and Snowtown. The Flip Side pays tribute to debut director Marion Pilowsky's home town with a love story of two couples while showing off plenty of the region's famed red wine.
The film is one part romance, one part drama, and unfortunately two parts ho-hum. It's also erroneously (hopefully) marketed as a comedy. It's the story of Ronnie (Emily Taheny), a small city girl with big character who shares a whirlwind romance with fictional British actor, Henry (Eddie Izzard). Jilted by Henry she moves on with her life, shacking up with the significantly less famous part-time teacher and aspiring author, Jeff (Luke McKenzie).
Life isn't going great for Ronnie. Up to her eyeballs in debt she nonetheless is in a happy relationship. But wait! Henry is coming to Adelaide to promote his new film and wants to disrupt that relationship. And he's brought his assistant/girlfriend/quasi prostitute Sophie (Vanessa Guide) who has eyes only for Ronnie's boyfriend, Jeff.
Misinterpreting Henry's motives Jeff invites them first to stay at their place and then join him and Ronnie on their upcoming outback getaway. Like a blind, deaf, and dumb swinger Jeff remains quite oblivious to Sophie's heavy flirting and the romantic link between Ronnie and Henry. Although on the last point I can't blame him; Izzard and Taheny have zero chemistry.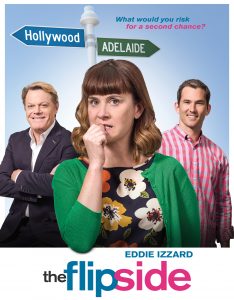 Izzard remains the greatest mystery of the film, specifically why he appears within it. This is unfortunate as his character is the lynch pin to all the film's drama. Woefully miscast he fails to pull off the role of the English mega celebrity gallivanting through Adelaide. Seeing him and uber-French Sophie parade around with noses held high is painful. Any scene with the pair interacting with the great unwashed Australian public will have you wanting to disappear deep into your seat to escape. The only thing that could have completed the cringe fest would have been to have a journalist character stop to ask him what he thought of Australia.
Izzard always seems uncomfortable on screen, never taking the trashy dialogue seriously or hamming up the soap drama elements. After a self aggrandising speech in which he straight-faced proclaims 'Every time we're not true to ourselves an angel dies' he proposes to Ronnie in front of both partners, something everyone seems to just ignore. We in the audience aren't as lucky.
While this review paints the film as less than stellar, it's in the spirit of Margaret Pomeranz's unrelenting endorsement of the local industry that we look to the positives. Luke McKenzie and Emily Taheny are both clearly quite talented and do great with the material they're given. The shooting locations are gorgeous. Try to have fun with this one if you can – I would recommend consuming some red wine of your own to accompany the characters.
The Flip Side is in cinemas from 30th August through 20th Century Fox.