Lebanese writer/director Ziad Doueiri contemplates many things in The Insult – the way that small words can escalate into large arguments, the limits of freedom of speech, and the large, complicated melting pot that Middle Eastern politics finds itself in at the moment. Brilliantly acted and written with empathy for both sides, this is a painfully relevant thriller with big ideas on its mind and the courage to comment on them.
Tony Hanna (Adel Karem) is a devoted member of the right wing Christian party who attends rallies and often listens to the firebrand speeches of its assassinated leader Bachir Gemayel. He's a man with strong political views but privately he's just a hard working husband trying to get his life and house ready for when his heavily pregnant wife Shirine (Rita Hayek) gives birth to their first child.
Tony's mirror image, and the embodiment of everything he can't stand in current Lebanon, is Yasser (Kamel El Basha), a Palestinian refugee working in construction fixing up buildings in Tony's district. He's a decent man trying his best to work in a society whose loud minority hates him. The two get into an argument. Yasser calls him a "fucking prick", Tony says that he wishes the Israelis had wiped the Palestinians, Yasser snaps and punches Tony, breaking two of his ribs. Soon a court case begins, and when the media, lawyers and politicians get involved what started as a petty argument over some stupid words escalates into a violent debate which the entire nation gets involved in.
The population of Lebanon is six million, with just under half a million Palestinians living as refugees. Point of reference: the Muslim population of Australia is just over 2%, yet the far right scream themselves into conniptions over immigration; Lebanon has one in twelve people living on its land being stateless Palestinians, and a recent influx of Syrian refugees brings its own challenges. It's a situation ripe for the politics of division to take hold and historical scores to be reopened and resettled.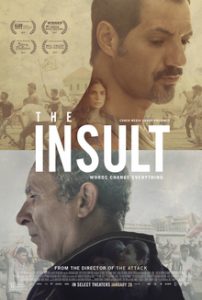 One of the most difficult things about Middle Eastern drama is that before venturing into the moral statements of the director there are various factions and historical continuities that need to be figured out. The simmering tensions in Lebanon are both the backdrop and the issue that Doueiri's film centre on, and those who know the history and nuances of this society are going to get the most out of it. Those who don't still get treated to a brilliantly acted and constantly compelling piece of drama, that's themes are as relevant to Lebanon as they are around the world.
Ziad Doueiri wrote the screenplay with Joelle Touma, with Doueiri being a Muslim, and Touma a Christian, and like a lot of great films coming out of the Middle East the larger argument symbolised by the leading characters is given equal amounts of condemnation and sympathy. What starts as a relatively simple court case of an angry man taking his frustration at a rapidly changing world out on a powerless refugee quickly becomes complicated, as revelations about Yasser's past and Tony's enduring trauma surface. The two outstanding performances of Adel Karem and Kamel El Basha mean that either viewpoint is sympathetic, and always enthralling. 
Above all it's Doueiri's sadness about the politics of division that make the film work. A film coming out of Lebanon seems to be alarmingly relevant about the current tensions in Australia, the USA and the fracturing politics of Europe. Whatever the limits of speech, the world's refugee crisis or the way that minorities become scapegoats for societal problems, what it all comes back to is how common people treat each other. 
Division will not solve our problems, but equally ignoring facts about people won't either. Heavy words are so lightly thrown and in this current world it's scarily easy for petty personal anger to escalate to societal harm. The Insult is one of the many great films coming out of the Middle East at the moment, and those looking for thought-provoking cinema which will test sympathies and personal bias should rush out to see it.
The Insult is in cinemas from 30th August through Palace Films.