West of Sunshine is the first feature film from writer-director Jason Raftopoulos, and is an elegant entry. Set over one day in Melbourne, the film is beautifully shot and very well acted. West of Sunshine is a stylish way to start a career.
The film is about Jim (Damian Hill), a courier who is deeply in debt to a loan shark. Starting in the morning as Jim is on route to work, we learn that he has until the end of the day to repay his debt of $15,000, a sum which is going to be tricky for Jim to gather. It is clear Jim is working class; the backdrop of Melbourne's inner west is merely one of many clues. Jim and his mate Steve (Arthur Angel) discuss the prospect of how to repay the debt when they discover that Jim has forgotten that he is to babysit his son Alex (Ty Perham). With Alex in tow and deliveries to make, it would seem Jim is going to struggle to get the money together. And struggle he does, although getting the money is oddly not the problem. Jim has to beg, borrow and plead for help, all under the watchful gaze of Alex.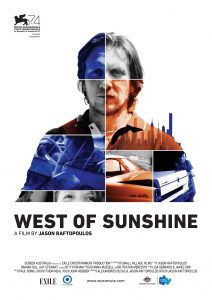 West of Sunshine is an essay on the hardships of life; of facing up to adversity, because there are no other options. Unfortunately the film presents as a little pointless. Pointlessness in cinema is okay, and often serves a purpose within itself; simply to be a thing of beauty, a few hours well spent. Thankfully West of Sunshine delivers on that front.
The film is very beautiful – the cinematography by Thom Neal is excellent, lots of strikingly framed extreme close-ups juxtaposed with the varied facets of the Melbourne landscape (or streetscape, if you will). There are some fabulous shots of Melbourne's more industrial side, images of towering cranes passing by as Jim and Alex drive around the city. The industrial setting provides a point of comparison to the work Jim is putting in to clear his debt, parent Alex, and simply get by.
The acting is superb; Hill and Perham have a wonderful dynamic as father and son. This is very important, as much of the film is the two of them together in Jim's car. There is an authenticity to their chemistry, both the affection and frustration, which adds to the beauty of the film.
Despite the bleak nature of the subject, West of Sunshine concludes with a relative sense of warmth and optimism. Because the film is so beautiful in its execution, it is easy to overlook some minor flaws.
West of Sunshine is in cinemas from 23rd August through Exile Entertainment.