There is a sub-genre of comedy which audiences either love or hate, and it can be summed up succinctly as "awkward comedy". You may be familiar with this style of comedy from such British productions as Death at a Funeral or Extras. The laughs in this genre come from bad people (usually) doing bad things which you can see coming a mile away, the fallout of which either makes you laugh or cringe. However, when the slapstick is normalised and the intentions of the characters are pure and genuine, this "everything that could go wrong, does" can actually be quite charming, as is the case for the French production C'est la Vie!
With such a generic title this film could be a French film about anything, but this particular film takes place at a wedding. Max (Jean-Pierre Bacri) runs an events company specialising in weddings, and from the get-go he seems entirely ready to pack the whole thing in. He has had an offer from a potential buyer and seems to be using a rather large, over the top wedding at a 17th Century chateaux to make up his mind. Autocorrect confusions, newcomer misunderstandings and a waiter discovering the bride is an old flame lead to the usual amount of hijinx, and Max seems to have it all under control until a catering catastrophe takes him from the event for half an hour and, egos left unchecked, things start to unravel.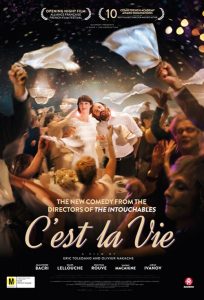 Anyone who has organised a wedding of their own will get enjoyment from the usual characters; an overzealous mother in-law, guests making ridiculous music requests, a photographer who seems to be either chronically in the way or AWOL. The purest joys of the film come from the inclusion of a groom-zilla who has meticulously planned every last detail of the wedding himself, has an unreasonable vision of what they day should be, has a speech which almost puts the entire reception to sleep, and an elaborate surprise which can only end badly which sees him spending more time checking in with the events teams than with his new bride.
From the writing and directing team of Olivier Nakache and Éric Toledano, who bought us 2011's charming The Intouchables, C'est la Vie hits all the right notes, including some subtle social commentary about tax laws and immigration. Jean-Pierre Baccri is superb as the dry-witted leader of the misfits who is quietly dealing with his own personal issues throughout, Benjamin Lavernhe is utterly mesmerising as the troublesome groom orchestrating the most elaborate pat on the back for himself ever, and Jean-Paul Rouve is perfection as the smarmy lothario photographer who shirks his duties in order to match with an anonymous guest on Tinder. The entire ensemble cast is wonderful and the dreamy chateau setting makes for a rather picturesque film.
C'est la Vie is in cinemas from 16th August through Madman Films.