In these cynical, post-truth times we live in, the bittersweet sting of nostalgia and young love can be an alluring drawcard for the jaded cinema-goer looking for some respite from the crazy. And while the vintage tinge, fashion and decor of On Chesil Beach may seem to offer up a dreamy, awkward tale of young love, there is more than meets the eye waiting below the surface.
After breaking our collective hearts with the doomed lovers Robbie and Cecilia in Atonement, writer Ian McEwan is at it again with the screen adaptation of his 2007 novel. Florence (Saorise Ronan) and Edward (Billy Howle), a young, idealistic couple who meet and fall in love in 1962, are recently married and staying at a small hotel by the beach on their honeymoon. It is their wedding night and through stilted conversation, clumsy interaction and detailed flash backs we are introduced to a naïve middle class, violinist and social activist Florence and her stuffy, up-tight family, and the working class, hard working oldest son helping his struggling father care for his brain-damaged mother.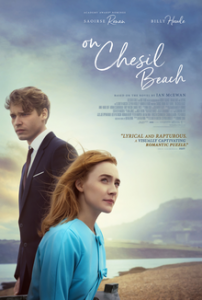 The relationship appears to grow organically, culminating in the pair dancing around each other in the honeymoon suite as they attempt to consummate their relationship. Florence however is repulsed by the act and an apparent trauma in her past leads her to run away from Edward and leave him embarrassed and ashamed. They meet on Chesil Beach and have an argument which culminates in Florence making a proposal to Edward which is unacceptable to him and the pair part ways.
In an all too brief epilogue after all of the build-up to the climax of the film, we see Edward through the decades, coming to terms with his youthful annulment and trying to build a life from the ashes of his failed marriage. While the film is stunningly beautiful, exquisitely directed by theatre director Dominic Cooke, and acted superbly by not only the two, power-house leads, but also by the stellar supporting cast including veterans Emily Watson, superb as Florence's uptight mother, and Anne-Marie Duff as Edward's troubled mother, the whole final act of the film, after the break-up, seems to have been slapped onto the end of what was a charming, whimsical portrayal of clashing classes, stuffy British people awkwardly discussing sexuality, and the electricity and pain of young love. If it had ended on the beach it would have been satisfying, if it had gone for another 30 minutes and truly explored how the societal mores would have changed their relationship or their acceptance of one another it would have been satisfying. But the charm of the film was over on the beach and what came after was a clumsy wrap-up, which all but ruined an otherwise exceptional film.
On Chesil Beach is in cinemas from 9th August through Transmission Films.