Spike Lee has always preferred to explore race relations in America head on. His latest film BlacKkKlansman, which he directed and wrote, is no different. Adapted from the autobiographical novel Black Klansman by Ron Stallworth, it tells the remarkable true story of how an African American police officer infiltrated his town's Ku Klux Klan chapter. Lee infuses his historical adaptation with his characteristic traits – it is stylish, indignant, visceral – and the film is another bold addition to his filmography. But the film is also powerful for its contemporary relevance as an indictment of Trump and his incendiary brand of race politics. And it is in this sense that Lee reminds us that his is a singular, and necessary, cinematic voice.
Late 1970s, Colorado Springs. Ron Stallworth (John David Washington, son of Denzel Washington) is being interviewed for a job at the local police department, hoping to pursue a career in law enforcement as their first African American police officer. He is hired, but not without apprehension and even outright hostility from some of the other officers. He persists, and soon requests to work on undercover investigations. His first assignment occurs almost on a whim – he calls the number for the local KKK, posing as someone interested in joining. Before long, he receives an invitation to meet the rest of the group, and in order to do this he teams up with Detective Flip Zimmerman (Adam Driver). Together, they are introduced to, among others, the leader of the chapter, Walter Breachway (Ryan Eggold), devoted member Felix Kendrickson (Jasper Pääkkönen), and, incredibly, eventually even David Duke (Topher Grace) – the 'Grand Wizard' himself. As they infiltrate further and further they face the constant threat of being discovered, whilst also trying to prevent violent clashes with a university activist group, led by Patrice Dumas (Laura Harrier).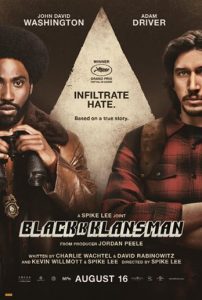 The film is solid on all fronts and assembled together with Lee's trademark flair – evident from the opening credits. Perhaps what distinguishes the film most from Lee's previous explorations of race is its deftly balanced tone. More focused than indulgently messy musical Chi-Raq and less provocatively challenging or confrontational than Do The Right Thing, the film manages to skillfully blend both searing social commentary with incisive hilarity. There is anger and outrage, no doubt, but there are also plenty of comical moments.
In the end, this potentially awkward juxtaposition works. This is because the performances are all attuned to the screenplay's layered tonal rhythms, and they remain committed to the plot even, or especially, as it becomes more and more outlandish. The two central performances from Washington and Driver play off each other with charismatic, complementary ease, and the supporting cast is uniformly strong in providing the film's more charged, intense moments.
More importantly, however, are the clear and urgent links made between the film's historical subject matter and contemporary race relations. Several not-so-subtle references are made to the racial discrimination and intolerance being touted by even those occupying the highest echelons of power, and to those who vigorously denounce it. The resonances are both striking and sobering. They remind us that, in some ways, little has changed, but that in times like these we need daring and provocative artists like Spike Lee.
BlacKkKlansman is in cinemas from 16th August through Universal Pictures.