Gender Equality Advocate. Associate Justice of the United States Supreme Court. Notorious RBG.
At 85-years-old, Ruth Bader Ginsburg has become somewhat of an unexpected pop culture icon. In their documentary RBG, directors Betsy West and Julie Cohen tell the absorbing story of her reserved brand of brilliance and her battles for gender equality in the United States – first as a lawyer and advocate, and then, eventually, as a member of the nation's highest court – and the ways in which she inspires countless others. It strikes a deft, easy balance in tone throughout – levity, earnestness, admiration – and covers many of the important periods of her life against the backdrop of American cultural and political history. Ultimately, this is a fascinating, rousing portrait of an incredible life – lived by an incredible woman.
There is no doubt that Ruth Bader Ginsburg has led a remarkable life. West and Cohen include perspectives from a wide range of people (family members and friends, politicians, former clients and colleagues) and photographs, audio snippets and footage from countless sources, along with generous commentary from the subject herself. They start with her humble family beginnings, and the values imparted to her. They explore the stark realities of the gender imbalance she encountered first at Harvard and then at Columbia, but also the lifelong love and support she would come to find in her husband, Marty. They delve into how she became a fierce advocate for gender equality in the 1970s, arguing and winning several cases before the United States Supreme Court. And they cover her ascent into this same Court, focusing on key majority decisions she wrote along with the more recent impassioned dissents she has penned as a member of the Court's minority liberal bloc. In between, they include more personal anecdotes, insights and passions. And, of course, they cover how she became the cultural phenomenon 'Notorious RBG' (a reference to rapper Notorious B.I.G.).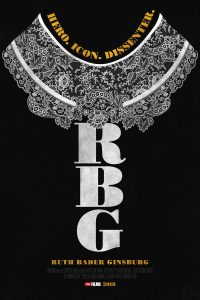 One of the more surprising aspects of her story is the role of balanced contrasts. Her reputation as a fierce and ardent opponent of gender inequality is juxtaposed with the fact that, at heart, she is introverted and reserved, preferring restraint and careful argument over heated verbosity. Her personality is often lightheartedly contrasted with that of her more outgoing husband Marty, but they seemed to perfectly complement each other; the scenes in which she shares her memories of him and their relationship are amongst the most moving in the film. And finally, there is her well-known, surprising relationship with conservative justice Antonin Scalia; despite their differences, she was able to, as one of her former advocate colleagues notes, 'compartmentalise', and strike up a rich and fulfilling friendship because of it.
Perhaps, the editing could have been a bit sharper; at times, the seamless flow and blending of topics did not make obvious sense. And there is probably little doubt that this documentary caters to a particular audience. But these are relatively minor quibbles. In the end, RBG is a solidly crafted documentary, and a worthy cinematic celebration of its subject.
RBG is in cinemas from 26th July through Icon Film Distribution.