I can only imagine how daunting it must be to contemplate adapting the Scottish play for stage and then wonder how on earth you could have anything more to add to the mountain of interpretations that have amassed since Macbeth was penned. It's a limited entity; it would be reasonable to think that the cow has been well and truly milked by now. But then Shakespeare's work is filled with all kinds of timely themes that lend themselves to up-to-date social commentary. Gotta love an expired copyright.
In particular, any play dealing with leaders and the corruption of power and ambition is always going to draw admirers; it's a fact of the arts community that politicians will never live down the cynicism of playwrights like Shakespeare who live, or lived, to challenge the establishment. But while transferring a play like Macbeth to a ruinous near future, as National Theatre artistic director Rufus Norris has done here, and making a commentary on the present day is all well and good, it isn't enough to simply capture the surface elements of looming catastrophe as a backdrop for the power plays and woe-is-me wailing that we're all familiar with. The audience needs to believe that that kind of bastardry could arise from the society and political environment depicted.
In this adaptation Rufus Norris bathes the derelict setting in black, borders it in curtains of black plastic and drapes a vast curving bridge across the stage upon which the scraggly survivors in this grim world arrive and flee. Sometimes they wield machetes rather unconvincingly, at other times they wear the scarred masks of some nightmarish vision. Sometimes they are merely carrying news, but those moments are tantamount to filler in this gory rendition of Shakespeare's darkest material. The bridge is a dynamic and imposing structure that disappears into the darkness beyond and is one of the production's successes.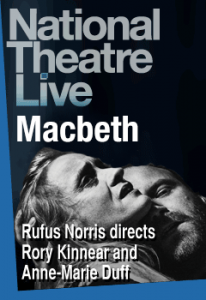 But while NT Live's Macbeth may often be compelling viewing as horror, detailing a devolution from democracy to feudal clan warfare in grim fashion, Norris perhaps overplays his pursuit of atmosphere. Witches are adorned with mutilated babies and Macbeth himself opens the play with a merry beheading of his foes. In depicting this feverish guilt-ridden nightmare Norris loses sight of some key elements of the original setting and cripples Macbeth's character progression. This sadly also has the domino effect of leaving many of the characters unfulfilled, as when the protagonist is not believable it follows that the decisions of those around him or her might lack conviction as well.
In a lawless society where even the most successful of the few remaining stragglers are still only survivors getting by on scraps and taped armour, what could Macbeth possibly see as being the benefit of committing regicide so bloodily? How could he and Lady Macbeth be so easily led astray by some hooting and squeaking crones who disappear as suddenly as they announce themselves? The answer seems to be that Macbeth in Norris's production is not an ambitious man corrupted but a deluded psychopath indulged — one who needs little invitation to ruin the lives of many to raise his own standing within the doomsday survivor community.
Rory Kinnear is committed in the lead role as he fidgets, moans, frets, shrieks and laughs ruefully. He portrays Macbeth's quick ascent and sharp decline effectively, seems comfortable with the dialogue and is ably supported by Anne-Marie Duff as an under-utilised Lady Macbeth. Technically it is also assured, its scene transitions smooth and its mood consistently ominous. But the problems with Macbeth start at the base where Norris has tried a little too hard to frame it for the modern audience. It's admirable, but it ultimately doesn't quite pay off.
National Theatre Live: Macbeth has limited screenings from 21st July through Sharmill Films.