Putting an author biopic to screen is fraught with danger. You know the name, you know the book they're known for. That story is groundbreaking for whatever reason, because why else would a movie be necessary? The challenge then is to hint towards the other time-honoured piece of literature without straying from the facts of the author's own life. It's a constant blend of conjecture and circumstance to answer the most irritating audience question at writers festivals: 'Where do you get your ideas from?'
In this sense Mary Shelley is fortunate, or unfortunate, to have lived a life studded with stars. It was an existence propelled by a gale of scandal from a young age after she eloped with the already married poet Percy Shelley at the age of sixteen, only to be left reeling in the wake of his debts and neglect. It would be nice to say she had the last laugh in the aftermath of this nineteenth-century live fast, die young lifestyle that Percy pursued to his ultimate undoing. After all, the publication of Frankenstein was a landmark occasion. But by the time Mary's grim literary gifts had taken form, she had become all too aware of the strictures that the world had in place for her and that her unaffected joys of youth had faded.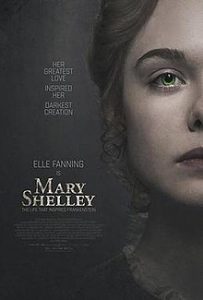 Haifaa al-Mansour's Mary Shelley sadly isn't the biopic to capture the intrigue and depth of this material, but it doesn't make Mary's story any less incredible. Played here by Elle Fanning, she was not one to be seduced and abandoned. Although naive and restless at first, she was clearly a remarkable woman of fortitude in the face of endemic and reckless male entitlement. This she would ultimately rise above, in part by authoring a book to forever document her disillusionment with mankind and the consequences of neglect. There is a neatly illustrative moment near the conclusion when Percy (Douglas Booth) praises Frankenstein while suggesting a more hopeful ending, only to be met with Mary's bewilderment upon realising that Percy has missed the point of the work entirely and its reflection upon his own conduct.
These diametrically opposed experiences of the world and the double-standards Mary experienced at Percy's arm are an underlying theme of al-Mansour's portrait, and it is a theme well developed, even if Booth and Fanning's performances do little to indicate geniuses at work. The breadth of content cannot distract from the film's unwillingness to go deeper than face value, with Mary Shelley rarely recounting her life with more interrogation than you'd expect of a Wikipedia entry.
Attention to Mary's scientific interests and the galvanism craze is tokenistic, and when Mary's loss of her first child to an unexplained and abrupt death, clearly a traumatic time, is skipped over with alarming brevity, it is enough to think a major scene was forgotten on the cutting room floor. Such a moment demands to sit and soak, but when flashpoints like these are missed, the feeling is that al-Mansour and screenwriter Emma Jensen have not fully engaged with their subject. This might explain why the film falls emotionally flat, but that might also owe to questionable casting. While determined and effective enough, Fanning is still rather wooden and shown up at times by Bel Powley, who is much more at home as Claire, Mary's adventurous stepsister.
For large parts Mary Shelley is a solid production. The cinematography is superb, the setting gritty, the score poignant without being too dictatorial. However, it loses credibility with dialogue that, ladled with all the wit and romanticised platitudes you'd expect of a drunken poet, ranges from eye-rolling to merely passable with some well-placed wry humour. In the end there's just something very safe about it all, and as a result we're left with a curiosity about, but not necessarily an understanding of, Mary. That is a missed opportunity.
Mary Shelley is in cinemas from 5th July through Transmission Films.