The previous episodes in the Hotel Transylvania franchise have been very successful, and rightly so. This is a great franchise; monsters make for interesting and unconventional characters, as does the hotel where humans and monsters alike choose to holiday. The cast is a star studded list, and production values are very high. Hotel Transylvania 3: A Monster Vacation builds on the existing set up, adds a few new elements and prepares for the next chapter.
This instalment sees Vlad (Adam Sandler) over worked and lonely; he is now long widowed, his daughter Mavis (Selena Gomez) has her husband and son occupying much of her attention. Vlad's monster-crew are keen to find him a date, but Mavis has other ideas. She thinks her dad needs a break, and that they all need some family time. So, she books them on the ultimate monster holiday: a cruise to the lost city of Atlantis (via the Bermuda Triangle).
Although Vlad is mildly insulted by the cruise (he rightly points out that it's just a hotel on water, and he already has a hotel of his own), he attempts to embrace the notion of a holiday. But the cruise captain is about to throw a spanner in the works; not only does Vlad fall head over heels for the acrobatic Erika (Kathryn Hahn), she happens to be the great granddaughter of his long time nemesis. With Erika out to kill Vlad, and Vlad looking for love, who can possibly imagine this will be anything but a monstrous holiday? Actually, that may be just what they are looking for.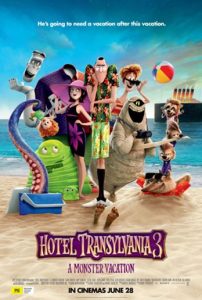 It goes without saying that animation has come a long way in the last twenty odd years, with Pixar generally being credited for the reinvigoration of the method. The days of simplistic plot lines and modestly drawn imagery are over. We have been delivered some exceptional films as a result. But is Hotel Transylvania 3: A Monster Vacation one of them? The bar is set very high, and the film is really very good but perhaps not exceptional.
The film is loaded with lovely messages. Mavis has to come to terms with her dad moving on and re-partnering – something many of the younger members of the audience may be familiar with. The film reiterates throughout that monsters and humans are really not that different from one another; Erika realises that the messages she has been brought up with about monsters being terrible were totally misguided. The notion that people in charge are not always right is very significant in the Trump era, and a message well delivered in a context such as this. But the heart-warming messages seem to be at the expense of the plot. The film is more of a stringing together of a few funny moments, rather than a well crafted story. The result is a little too clichéd. That said, this is still a very enjoyable film, and not a bad way to spend a few hours of an otherwise dreary school holidays.
Hotel Transylvania 3: A Monster Vacation is in cinemas from 5th July through Sony Pictures.